U20 World Cup
Ramos pulls the right strings as U.S. U-20s trounce New Zealand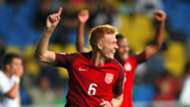 Tab Ramos made all the right moves Thursday, as the U.S. Under-20 national team coach helped his side overcome suspensions of key players to record an emphatic knockout-round victory against New Zealand at the U-20 World Cup.
Yes, his players still had to execute — and execute they did on the way to a 6-0 dismantling of the Oceania nation — but it was Ramos who dug deep into his bench and made crucial lineup decisions, along with a perfect formation switch, to overwhelm the Kiwis and earn a place in the quarterfinals.
Mexico players make final case
The Americans came in as heavy favorites to beat a New Zealand side that had been out-possessed and out-shot in all three of its group stage matches, including a 3-1 win against Honduras, but the thoroughness of Thursday's victory was down to Ramos hitting every note with his moves.
The U.S. deployed a 4-4-2 to give the Kiwis another forward to contend with, a sensible move against a side that had shown vulnerabilities in the back four during the tournament. That maneuver meant Ramos had to trust his players to be able to win a straight-up battle in central midfield. Tyler Adams and Eryk Williamson did that with ease, outplaying their New Zealand counterparts handily to help the Americans control the flow of play for much of the match.
Ramos kept captain Erik Palmer-Brown in central defense rather than move him into a defensive midfield role, and the Sporting Kansas City man helped shut down opposing striker Myer Bevan, who struggled for service and space to maneuver.
Josh Sargent and Brooks Lennon were excellent yet again, combining to disrupt New Zealand with their speed, quickness and technical quality. Sargent's confidence on the ball is that of a seasoned pro and not the 17-year-old he actually is, while Lennon turned in his fourth straight good performance, adding a well-taken finish to open the floodgates.
A significantly tougher test awaits Sunday, when Venezuela puts its perfect record on the line against the Americans. Venezuela has won all four of its matches at the World Cup and has yet to surrender a goal, but Ramos and the U.S. will take heart in the fact that Japan pushed the South American squad to the brink in the round of 16 with organized defending and excellent possession-focused short passing.
The U.S. will be at a disadvantage due to having two fewer days of rest than Venezuela, but that will be offset somewhat by the fact that regular starters Cameron Carter-Vickers, Derrick Jones and Aaron Herrera will be rested for the match after sitting out Thursday due to suspension.
Here is a closer look at Friday's 6-0 win, and a look ahead to Sunday's quarterfinal showdown with Venezuela:
---
GLAD SHINES AT RIGHT BACK
---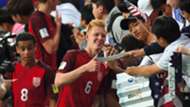 Real Salt Lake defender Justen Glad is a center back by trade, but past experience at fullback made him a good candidate for the suspended Herrera and he blew away expectations, sending two shots at the net that both turned into goals, including one inadvertently redirected in by Sargent.
Glad's offensive contributions were a nice bonus on a day when he handled the defensive responsibilities at right back perfectly. New Zealand didn't offer the kind of challenges on the wing that prior U.S. opponents did, but he still made every defensive play he had to.
You could argue Glad played well enough to keep the starting right back job, but Ramos might find it tough to start him against Venezuela considering the short turnaround time — 67 hours to be exact — between matches. Herrera is now rested. He overcame a poor performance against Ecuador in the World Cup opener, which, in fairness, was the most challenging assignment in terms of wing defending, but Herrera was better in both subsequent matches.
Venezuela has a major threat working on its left wing in standout Adalberto Penaranda. The Malaga forward-winger has been a handful for defenders with technical quality on the ball, and his combination of size and quickness. You can argue that Glad is a better one-on-one defender, but Herrera is faster down the line. The rest factor probably gives the edge to Herrera, but if all things were equal Glad would be the safer bet to face Venezuela.
---
EBOBISSE AWAKENS
---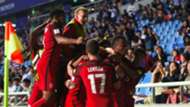 There was a time when this U-20 World Cup might have been seen as Jeremy Ebobisse's tournament to shine. Then Sargent arrived on the scene, and grabbed the spotlight with both hands, relegating Ebobisse to the bench. Just when it looked like he might have his chance to impress, Ramos handed him a start against New Zealand, and the Portland Timbers striker took full advantage.
The Duke University product showed the qualities that led the Portland Timbers to trade up and make him the fourth overall pick in the 2017 MLS draft, boasting the strength and movement of an effective target forward, as well as the finishing ability that eluded him during the CONCACAF championships. His hold-up play was impressive Thursday, but not as impressive as his turn and finish on the second U.S. goal, which led to the Americans breaking open the match.
That was the kind of finish that could give Ebobisse the confidence to finish the World Cup strong, and while there's no guarantee Ramos will start him against Venezuela, he definitely showed enough to be given some sort of role in Sunday's quarterfinal.
---
SAME FROM PALMER-BROWN AND LENNON
---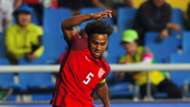 Four games, four strong outings. That's the simple summary for both Palmer-Brown and Lennon. For Palmer-Brown, stepping in to be the leader of the defense in the absence of the imposing Carter-Vickers was easy, and the Sporting KC man gave us another display of the form that has European clubs lining up to try and pry him away from MLS.
Lennon has been one of the best attacking players in the tournament. When he's not serving dangerous corner kicks, or making speedy runs up and down the right wing, he's delivering dangerous passes and providing an outlet to U.S. central midfielders on the break. The Real Salt Lake midfielder arrived on loan from Liverpool and promptly broke into the starting lineup with the MLS club, and has carried over his club form to the World Cup, where you could argue he has been the team's most effective player.
Against New Zealand it was Lennon's corner-kick service that helped set up the first and second goals. Then his perfect run and far-post finish sealed the victory on the third U.S. goal. He will have a tougher time against a Venezuelan defense that has yet to surrender a goal this tournament, but if the U.S. is going to be the first team to score on the South Americans, Lennon is a good bet to be a factor.
---
VENEZUELA OFFERS STIFF QUARTERFINAL TEST
---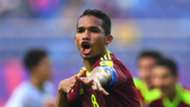 The U.S. will be back to full strength (minus injured midfielder Gedion Zelalem) for Sunday's quarterfinal against Venezuela, and Ramos will need his best players to deliver once more against an opponent that boasts an organized defense and some truly dangerous attacking weapons.
Playmaker Yeferson Soteldo pulls the strings in the Venezuelan attack. The diminutive creator is quick as a cat, and boasts some of the best technical ability seen in the entire tournament. Jones and Adams will need to keep him contained while also trying to cope with tireless NYCFC midfielder Yangel Herrera, who has had an outstanding tournament.
Forward Sergio Cordova is a tall and strong target striker with four goals in the tournament. He is sure to see plenty of Carter-Vickers on Sunday in a matchup that will have scouts drooling. As much as the Americans are well equipped to deal with Cordova, they could have trouble with the aforementioned Penaranda, who has the strength of a target forward but also the ball control of a playmaker. That will make Ramos' decision on the right back position a key one in determining whether the U.S. can contain the Venezuelan attack.
As for the Venezuelan defense, though it didn't surrender any goals in its previous four matches, the wins against Germany, Mexico and Japan offered up some areas for the U.S. to try and exploit. Venezuela can struggle against teams that pass well and keep the ball, with midfielders who can operate between the defensive and midfield line effectively offering the most trouble. Germany, Mexico and Japan all created chances, and Japan was particularly successful at controlling tempo with its possession passing game.
The U.S. will need Luca de la Torre, Eryk Williamson and Adams to all pass and move effectively to help exploit the small gaps in the Venezuelan defensive setup. Sargent's movement, quickness and finishing ability should produce threats if he is given service. Even if the Americans succeed on those fronts, they must also beat Venezuelan goalkeeper Wuilker Farinez, who has made some tough saves and commands his penalty area well.
Venezuela is going to present an extremely difficult challenge, but the U.S. actually matches up better with Venezuela than any of South American nation's previous opponents at the World Cup.