South Africa v Nigeria
Ramahlwe Mphahlele: Nigeria match a must-win for Bafana Bafana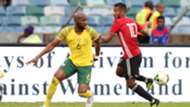 South Africa international Ramahlwe Mphahlele has warned against an all-or-nothing attitude ahead of Saturday's clash with Nigeria.
The 2019 Africa Cup of Nations (Afcon) qualification Group E match will take place at the iconic FNB Stadium in Johannesburg.
Mphahlele, who is on the books PSL giants Kaizer Chiefs, stated that they have a strong bond in the Bafana Bafana squad ahead of the crucial encounter. 
"We have a very strong bond in the changeroom. With some new players coming into the squad, finding such a welcoming camp, makes it easier to gel into a winning team," Mphahlele told Chiefs' official website.
Bafana are placed second on the Group E  standings - one point behind log leaders Nigeria with two matches remaining in the qualifying campaign.
"Yes, this is a must-win, but we must play our normal game according to the plan that the coach will give us to master and apply on the day. That we have beaten them before will not count on the day," he continued.
The Super Eagles will be seeking revenge against Bafana, who defeated them 2-0 in a Group E match which was played in Uyo in June 2017.
"Nigeria are always a hard nut to crack. They have good players with experience. It is good that we are playing in front of our supporters," he added.
"The mood in the camp is positive and all what's left is to execute our plans. We are not looking at the log. Our focus is on a winning every time we play," he said.
Third-placed Libya, who are still in with a chance to qualify as they are four points behind Bafana, will take on Group E strugglers, Seychelles away on Saturday.
Mphahlele is keen to help Bafana return to winning ways after drawing 0-0 with Seychelles away last month.
"It is always about the team and national [team] pride is at stake. Individual performances count when they contribute to the team's success," he explained.
"I am looking forward to being part of the Bafana Bafana team that will make history of back-to-back wins over Nigeria. We missed lots of chances against Seychelles. but we have moved on and put that behind us," he added.
"We are calling on South Africans to come in their numbers and rally behind the team on Saturday. We will do our best to represent the country with honour and dignity," he concluded.