KPL
Rachier: KPL will not sue pay TV firm SuperSport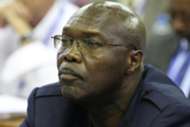 Two months after Kenyan Premier League ended partnership with South African pay television channel SuperSport, KPL boss Ambrose Rachier has opened the lid on the saga.
Speaking to Goal, Rachier, who is now serving his fourth year as the league boss, said that they'll not seek legal redress on the matter as "it is not an option they would want to take".
Boost for Harambee Stars as defender joins camp
"Whatever happened had happened.We`re not going to sue but there are options we are exploring. The effect has been dire and clubs are feeling the strain."
Quizzed further on the viable options, he said: "We are in touch and there is correspondence between us and the bosses in South Africa. We are trying to negotiate with the aim of reaching an amicable solution. We are trying to get compensation but this has to be done amicably."
The pay TV channel threw the Kenyan football into a state of limbo when they announced at the beginning of the term that it was ending engagement with the league body owing to a number of factors, chief among them ownership of league rights. However, it's not just the Kenyan league that has been affected as the company also closed shop in lucrative markets such as Ghana and Nigeria.
Okumbi: AFC Leopards star choose Dar tournament
In their absence, the KPL bosses have sought solace in La Liga from where they hope to attract a potential brodcasting partner after they recently signed a Memorandum of Understanding (MoU) between the two parties.