South Africa
Presidential candidate Andile Ncobo calls for postponement of Safa elections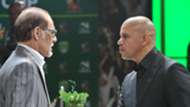 Former South African match referee Andile Ncobo has called on the South African Football Association (Safa) president Danny Jordaan to resign.
Ncobo is set to contest for the Safa presidential elections with Jordaan and the former has released a statement voicing out his concerns.
The former Premier Soccer League (PSL) general manager also confirmed that the Independent Electoral Commission (IEC) will not oversee the presidential elections.
It has also emerged that the elective conference scheduled for the 24th of March 2018 faces postponement after the IEC confirmed on Friday afternoon that they had withdrawn from overseeing the process.
In a press release on Friday, Ncobo said the IEC decided to withdraw as a result of a letter he had written to them highlighting incidents of gross violations to key constitutional imperatives.
He said he decided to do this after numerous failed attempts to address these issues via emails and letters with Safa CEO Dennis Mumble.
"I was left with no option but to address my concerns to other authoritative bodies. One of those was the IEC itself'" Ncobo said in his press release.
"Article 4 (3) of the Electoral Code prescribes that the Electoral Committee must be elected at a general assembly at least six months before an elective congress. Since that is the first step to be performed' this means the election cannot take place earlier than six months," he added.
"The IEC has today…responded to my letter dated 6th March 2018 and confirmed its decision to terminate its involvement in SAFA elections," he continued.
"The Commission had initially acceded to the request to assist with these elections as requested in the correspondence signed by Mr Mumble on 8 January 2018 subject to the fulfilment of certain conditions which were communicated to SAFA," he stressed.
"Subsequent to your letter of 6 March 2018' the Commission became cognizant of unresolved matters within SAFA with respect to these elections and has henceforth withdrawn its consent to provide the requested assistance," Ncobo quoted the letter.
Furthermore, the IEC's national spokesperson, Kate Bapela, also confirmed that they will no longer oversee the Safa elections until a number of issues are resolved.
"I can confirm that we have withdrawn from the elections of Safa to allow them to deal with their own internal issues'" Bapela is quoted by Timeslive.
Meanwhile, Safa's head of communications, Dominic Chimhavi, responded saying that they had not received any correspondence from the IEC.
"We have not received any correspondence from the IEC and as far as we are concerned the elections are going ahead. Ace Ncobo is not the spokesperson for the IEC'" Chimhavi said.
Furthermore, Ncobo alleged that the elections had been brought back from September to March 2018' by a 90 percent Safa vote last year' for "motives that had nothing to do with football".
"I am sure the football loving public will await eagerly the decision of the current SAFA President to resign from his position," Ncobo challenged.
"There are various other serious violations besides this one but I have elected to first make a submission to FIFA before disclosing them," he concluded.