Premier League
'Pray for Paul Robinson!' - Twitter reacts to shock Burnley keeper choice vs Man City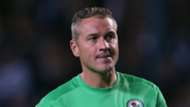 What year is it?! Paul Robinson's start for Burnley in their early kick-off against Manchester City has caused Twitter users to question whether they've woken up in the '90s.
The goalkeeper, 37, was England's No.1 for a spell during their so-called golden generation (which ultimately won nothing) and starred at Leeds, Tottenham and Blackburn before slipping into shot-stopping anonymity.
The legends eating Hazard's dust!
However, Sean Dyche has caused a stir by including in his team sheet to face Pep Guardiola's City on Saturday due to Tom Heaton's injury - much to the bemusement of football fans across the internet...
Confirmation of that team news means that Paul Robinson makes his debut for the Clarets at Turf Moor today.#ClaretsLIVE

— Burnley FC (@BurnleyOfficial) November 26, 2016
I nearly dropped Aguero the day he plays a team coming off a 4-0 loss to WBA, with Paul Robinson in goal!

— FantasyFootyGuru (@FPL_Guru_) November 26, 2016
Paul Robinson in goal! We are doomed :D

— Andy (@andyfielding84) November 26, 2016
Had totally forgotten Paul Robinson existed #BURvMCI

— OP (@opiopat) November 26, 2016
Paul Robinson has no knees, like a cute baby

— Doug (@apple_bonkers) November 26, 2016
Nearly spat out my tea when I saw Paul Robinson was in goal, pray for him

— Kieran Stapleton (@kieranstapes) November 26, 2016
Paul Robinson last kept a clean sheet against Yeovil...

— Jonny Blain (@jonoblain) November 26, 2016
Paul Robinson trending; naturally I assumed he was another casualty of 2016... turns out he's starting for Burnley against City

— jack (@jackksears) November 26, 2016
if Hodgson was still England manager then he'd make Paul Robinson England number 1 for the 2018 world cup for starting vs City

— Pink Lavalamp (@MufcAlex7) November 26, 2016
Good on Paul Robinson for getting a prem start today. He's knocking on a bit now but still manages to battle the top dog's. Should be game

— LV (@LukeVally) November 26, 2016
Wait, Paul Robinson still plays football?

— J (@J_AFC_) November 26, 2016