Kaizer Chiefs
Pollen Ndlanya: Why Kaizer Chiefs striker Moon will score against Orlando Pirates in the Soweto Derby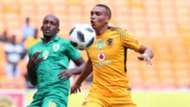 Former Kaizer Chiefs and Orlando Pirates striker Pollen Ndlanya believes that Ryan Moon will score in the upcoming Soweto Derby.
The two Soweto heavyweights will face off in a Premier Soccer League (PSL) match at FNB Stadium on Saturday.
Moon has been a revelation for Amakhosi this season and he heads into the biggest PSL match having scored five goals in his last seven league matches.
Ndlanya, who played in several Soweto Derby matches, stated that the 21-year-old striker can score for Chiefs against their biggest rivals.
"The derby should be about goals and we want to see goals. I believe Moon can score in the derby. I think it will be an interesting game because both teams are starting to gain momentum. Moon is good in the air, very aggressive and he has the right height for a striker. He has got everything. He needs to stay consistent and focused. So far so good for him," Ndlanya said on IOL.
"What I like about the boy is that he believes in himself. He can jump. He is the striker who we need, very aggressive. The only thing he needs to do is to stay consistent because Chiefs fans are spoiled. They want to win every time. Once he starts scoring like he has done, they will start to put pressure on him to do it week in and week out and that's where you need to stay focused," he said.
The first round league encounter between Chiefs and Pirates ended in a goalless draw at the FNB Stadium last October.
"I think there will be goals this time around and it will be good to see goals. This game is like an El Clasico between Real Madrid and Barcelona. It become boring if the game end in 0-0 score line. This one will be interesting because the log positions of both teams," Ndlanya said.
Legendary South African striker Shaun Bartlett, who also played for Chiefs in the Soweto Derby, also offered Moon some sort of advice when speaking on ths same publication.
"It is a privilege to score in the derby. It is one of those big moments. When you score in the derby you get appreciated. I've spoken to him personally," the University of Pretoria head coach said.
"I don't want to put him under pressure. He is still establishing himself. Ryan is still young and he has good technical awareness. He is agile. This game won't produce a lot of goals. I predict a 2-1 score line, " Bartlett concluded.