Paul Pogba
Vidic: Pogba's problems at Man Utd aren't his fault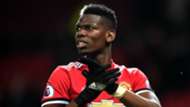 Paul Pogba cannot be blamed for his struggles at Manchester United, says Nemanja Vidic, with issues outside of his control contributing to a turbulent period.
The £89 million asset has seen his value questioned this season, with a bright start to the 2017-18 campaign having been countered by injury issues and a humbling benching by Jose Mourinho.
Vidic believes too much pressure has been placed on the France international as a result of his club-record price tag – something he can do little about.
The former United defender also believes that, unlike in his day, there are not enough senior stars at Old Trafford ready to help new arrivals settle and guide them through testing times.
Vidic told reporters at St George's Park while taking a UEFA Pro Licence course: "It is not the player's fault that a club is paying so much money for him. If someone offers you a big contract, you would not refuse, probably?
"I think the environment is important - who is around you, for example - to make you better. For the players of 22 and 23 to get so much money and publicity, he must feel like he is the most powerful person in the world. I was a football player, I felt like that: 'Wow, I am feeling really good'.
"But I think you need to have someone in the dressing room - some of the players - who can help you come through these difficult situations.
"You need the right senior players, with the credibility to help you go through the situation.
"When I came to United I was 24 and the dressing room was strong. You had Ryan Giggs, Paul Scholes, these guys. You always look to them for what you are doing, what you should be doing. They have already established the path, so there was less pressure on me."
Pogba opened the season with three goals in six appearances, but has failed to find the target since netting against Newcastle on November 18.