Paul Pogba
'Pogba would be better at City or Spurs than Man Utd' - Ince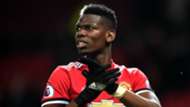 Paul Pogba is not suited to Jose Mourinho's Manchester United and would be "a better player" at Manchester City or Tottenham, says Paul Ince.
Questions continue to be asked of an £89 million addition at Old Trafford and his contribution to the collective cause.
There have been flashes of brilliance from the France international since returning to England in the summer of 2016, but they have been countered by all too frequent displays of inconsistency.
Pogba is now seeing his future called into question, following a recent benching, and Ince concedes that the 24-year-old is the wrong fit for a side which places more emphasis on defensive strength than free-flowing Premier League rivals.
The former United midfielder told Paddy Power: "Pogba has been made a scapegoat for the way the team are performing, when he's the one being played out of position. But he isn't the only problem.
"If you put the Frenchman into Manchester City's team, or even Tottenham's team, you'll see a better player.
"I don't believe that the way Jose Mourinho has United playing is suited to him.
"Alexis Sanchez looks as though he's trying to do everything at once, there's no connection between the players.
"When you look at Spurs, there are players who work together so well, like [Harry] Kane, [Christian] Eriksen, [Mousa] Dembele and Son [Heung-min].
"They link up together – but it all feels disjointed in the Manchester United attack. They don't know how to play with each other."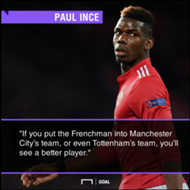 Ince added on the Pogba poser: "Let's get one thing straight. Pogba is not a defensive midfield player. But at the minute, he doesn't fit in the team and the balance isn't right.
"I'd go as far as to say that [Romelu] Lukaku, Sanchez and Pogba all on the same pitch just isn't working out at the minute."
Gary Neville recently told Goal that Pogba cannot be considered to fill a "world-class" talent bracket at Old Trafford, and Ince has echoed those comments.
He said: "David De Gea is the only world class player at Manchester United – Paul Pogba isn't there yet. Him and Anthony Martial have the potential to be, but there's still some way to go.
"Fans of the club have an expectation of how they expect the team to play – and they just aren't doing it at the minute.
"If United carry on playing the way they are, and forcing Pogba to play as a defensive player, you're going to get supporters turning against you."