Manchester United
'Players are low on confidence' - Butt concerned by Man Utd plight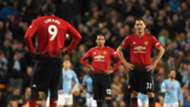 Nicky Butt expects Manchester United to recover from the defeat to Manchester City and stage a bid to reach the Premier League's top four, but first the team will need to recover a bit of confidence.
Pep Guardiola's leaders extended their advantage over Jose Mourinho's men to 12 points with a 3-1 success at the Etihad Stadium on Sunday.
Though it took a late Ilkay Gundogan goal to confirm the win for City as United threatened a second half comeback, the chasm between both teams was there for all to see.
Mourinho has downplayed the difference in quality between both sides but there is no masking over the seven-point gap which separates United from the top four.
Butt, the head of coaching at United's academy, says coupled with the absence of Paul Pogba the lack of confidence within the squad is evident - however the 43-year-old is predicting an about turn in fortunes.
"I think it's difficult when you have got players that aren't in form," the six-time Premier League winner at Old Trafford told Sky Sports .
"It doesn't matter who you are or what team you manage, if the players are not on a high or confident they are not going to win too many games.
"At United at the minute, players are low on confidence. 
"They came up against the probably the best team in Europe [Manchester City] and got beaten.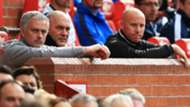 "They are steadily improving. The manager has recognised that and they are getting some consistency in the team.
"The injury to Pogba can kill any team. 
"They are not getting all the luck but that City game is gone now and hopefully they can push on to Christmas and get into a position where they are challenging in the top four."
After the international break, United will hope to get back on track with back-to-back home games against Crystal Palace in the Premier League and Young Boys in the Champions League.
A run of eight games in the space of 30 days in December starts with a trip to Southampton before London sides Arsenal and Fulham are the visitors to the Theatre of Dreams.