Super League
Settled Cornthwaite praises strength of Perak's squad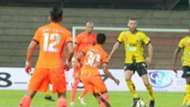 When he first reached the Malaysian shores in 2015, Cornthwaite wasted little time in helping his club then, Selangor to lift the coveted Malaysia Cup. Now, he's back again but with a different club, just a mere 200km up north.
Mehmet Durakovic and Perak captured the signing of Cornthwaite from Western Sydney Wanderers and the lanky centre back is slowly but surely building up a good partnership in defence for the team that has conceded three goals in the same number of league matches.
Paired with Shahrul Saad as his centre back partner, Cornthwaite has the international trio of Hafizul Hakim behind him, Nazirul Naim to the left of him and Amirul Azhan to the right of him. The presence of all that are proving useful to his integration into the team.
"I had obviously a good time, last time. A succesful time in the first year that I was here. I've got good memories here. To work with the players of this quality [Perak] is of course a good opportunity that maybe you don't get every day, so I enjoy being back."
"It's been very good. In particular the first two matches we looked very solid. It didn't look like Pahang or Kedah would score, if not for the penalty. The whole back four is very experienced and we settled in quickly. 
"One of the advantages that we have this year is almost all the foreigners have played in Malaysia before, so it doesn't take us long to adjust. We're looking to continue that with another tough game against Kelantan," Cornthwaite told Goal.
The 32-year-old also went on to note that compared to the last time he was in the Super League, most teams have done a great job of closing the gap with one another, apart from the obvious favourite for the league title.
"I've only played 3 games, so it's difficult to say. Johor are always the standout team but a lot of the other teams are more even. Maybe there's not a big a gap between second and last, so on any day somebody can beat anybody."
"There's of course more half Malaysian now, with JDT having a few and the Southeast Asian players obviously adding something different too," explained Cornthwaite.
Currently Perak are sitting in 7th-place after a win, a draw and a defeat in their opening three matches. Bottom placed Kelantan are the next opponent and barring any  major upset, Cornthwaite and co could well be quietly confident that they are on course to pick up their second league win of the season.