Premier League
Party in Accra as MultiChoice Ghana and Citi FM launch New League Season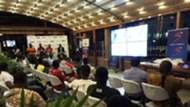 It was all fun and excitement as MultiChoice Ghana Limited, in conjunction with Citi FM, launched the New Soccer Season at Bosphorus Restaurant in Labone, Accra on Friday.
Marked with the screening of the English Premier League opener between twenty-time champions Manchester United and 2015-16 winners Leicester City at Old Trafford, the event attracted a large gathering from all walks of life. Just what was expected on a typical Friday night - an amazing party! 
That the game saw Ghana international Daniel Amartey handed a starting berth by Leicester was another point of interest for the many patrons. 
The expectations for the 23-year-old soon turned into disappointment as the right-back had an absolute mare, conceding a third minute penalty that gave Man Utd the lead, the first foul of the game and the first yellow card of the season before becoming just the first man to be substituted this term.
In the end, goals from Paul Pogba and Luke Shaw gave Jose Mourinho's men a 2-1 triumph, with Leicester's consolation coming from Jamie Vardy.
Amartey's performance may have been disappointing but it turned out little too small to kill the overwhelming excitement at Bosphorus.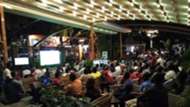 "For us, we know Ghanaians really love their football and have got an interesting taste for quality football all over the world. That's what DStv and SuperSport promise subscribers over the next one year" MultiChoice Ghana public relations officer Nii Armah Dagadu told Goal at the event. 
"On what our subscribers should expect this season, we've got the biggest property you can ever think of. We've got the English Premiership, the Spanish La Liga and the Italian Serie A. We've also got the Uefa Champions League and the recently introduced Uefa Nations League available to our subscribers. 
"The most exciting bit is that for the first time, our subscribers also get Serie A now on GOtv. 
"There're a lot of matches to look out for - 1040 matches to be shown on DStv. This is the best time to get on DStv,  and it's also on prices that haven't changed in the last two years."
The ever-growing popularity of major European leagues in Ghana, particularly the Premier League, cannot be mentioned without the impact of DStv and GOtv.
This season, Ghanaians will be keeping an eye on Amartey, Christian Atsu, Jordan Ayew and Jeffrey Schlupp who are likely to be called upon for next year's Africa Cup of Nations. 
"This season, we understand that subscribers are not able to stay at home to watch all the TV they want, so we've just closed a deal with [telecommunication outfit] Vodafone where subscribers can now watch their TV on their phones.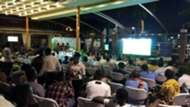 "You download the 'DStv Now' application onto your phone, and for GH¢ 1.00 a day, you can watch all the DStv you want on your phone wherever you are on Vodafone. The options are GH¢ 1.00 a day, GH¢ 5.00 a week of GH¢ 20.00 a month. And we're looking at expanding this to other networks. This is extended up to five devices."
Sports editor at Citi FM, Nathan Quao, also expressed delight by the event: "It's been fun. We thank DStv for partnering with us. It's a fantastic union and we hope that we'll do it a lot more as the season goes on."
At the end, some patrons walked away with fantastic prizes including DStv decoders and jerseys for predicting the score of the exciting opener.