Super League
Maniam happy with win, singles out Adam and Syahmi for praise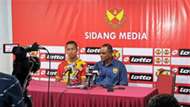 ---
BY         NIK AFIQ        Follow on Twitter
---
Selangor head coach, P. Maniam has praised his players after they recorded a 2-0 victory at home over Pulau Pinang last night in their Super League opener.
The Red Giants kicked off their 2017 season with an important three points as foreign striker Francis Forkey Doe and local-boy Adam Nor Azlin scored to give them the win.
Speaking after the game, Maniam said the players worked very hard for the win, and they created a lot of chances throughout.
"Overall as a coach, I think we played a very good game, especially in the second half. We defended more compared to the first half but the players were committed and gave their 200%. Their confidence level was very high and they worked as a team."
"(Pulau Pinang) are a very tough team, but we created a lot chances, we had our chances. We didn't really focus on the finishing drills during training so we will improve on that."
Maniam used a new formation in the match, but he insisted that the 3-4-3 formation may not be used in future games as he will change his tactics depending on the game.
He also insisted that the players' performance were more impactful as compared to the formation that he used, and he singled out youngsters Adam Nor Azlin and Syahmi Safari for showing impressive performances.
"It's not about the formation, but it was the players who showed great determination and worked very hard."
"I am very proud with my players especially Syahmi and Adam. We can see that they played one of their best games tonight."
"They were very confident. Adam scored a goal and Syahmi was a constant threat to the opponents with his offensive runs and crosses."
"The midfielders also did exactly what I wanted them to do, and they only lacked match fitness and they will improve in the next games," added Maniam.