Mesut Özil
Ozil didn't want to commit to Erdogan's policies, says Gladbach's Traore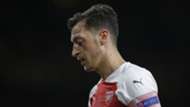 Borussia Monchengladbach's Ibrahima Traore does not believe that Arsenal's Mesut Ozil's meeting with Turkish president Recep Tayyip Erdogan was politically motivated on the player's part, but recognises that the scenario has damaged the German national team.
Ozil, who was joined by Everton's Cenk Tosun and Man City's Ilkay Gundogan, has Turkish roots, and met up with the controversial figure during an London embassy in May, posting a photo of the pair on his Instagram page.
Criticism of the Arsenal man swiftly followed due to the Erdogan's often questioned policies, but Bundesliga veteran Traore feels that the timing of the meeting was the biggest factor in the story becoming so large.
"I do not think that Ozil deliberately wanted to commit to Erdogan's policies," the winger said in an interview with Goal & Spox. "Above all, the timing was unfortunate considering what is happening politically in Germany.
"For me, football is football and politics is politics. If both are mixed, something like this can happen. It's clear that this story has massively harmed the national team.
"Germany has played politics at the World Cup, not football, and that can never go well. If there is a problem between two parties, the one who doesn't talk always loses. Then if you talk about it, it's too late."
As Traore says, Ozil released a statement well into the aftermath of the meeting, calling for an end to what he described as an attack on his heritage from the press.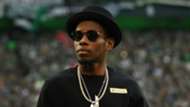 Traore, a Guinea international, has had to deal with racism himself in football, but admits that things haven't been bad for him personally for a while.
"[I only experience racism] once at a game, that was relatively early. Otherwise it hasn't happened again, and it doesn't happen to me in every day life.
"Of course, there is clearly a problem with racism – and not just in Germany. It's in every country."
On a lighter note, Traore, now 30, revealed that he always wanted to be a writer, and that he prefers reading books while other people on the Gladbach team bus play video games.
"I have no Playstation and no Nintendo," he says, "Honestly, I'm worried that they'd make me stupid!
"I have a cell phone and books. When I'm on the bus, the other guys play Fortnite or Mario Kart against each other and I read. Yann Sommer always has a book with him, too.
"I always wanted to be a writer more than I wanted to be a footballer. I never went to a football academy and that was lucky, because I was able to do other things, not just football.
"That would have been too one-dimensional for me and I certainly would not have made it to being a professional."