Ghana
Outcry from another Ghana assistant coach over unpaid fees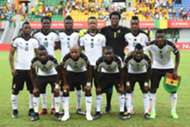 Jamie Lawrence, Ghana fitness coach at the 2017 Africa Cup of Nations in Gabon, is the latest to lament the nonpayment of bonuses for his services at the tournament.
The former Leicester City and Sunderland winger's comments come in the wake of similar outcry by Spanish coach Gerard Nus, who is currently embarking on a sit-in in Accra until his money is paid.
Like Nus, who was one of coach Avram Grant's assistants at the championship, Lawrence also resolved to a sit-in, but personal reasons forced him to return to the UK where he lives.
"It's very frustrating," Lawrence told the BBC.
"They told us the money would be paid as soon as we got back to Ghana and they haven't fulfilled the promise.
"I was away longer than anyone else - two months - and I went at the drop of a hat with 18 hours' notice for Avram, and they haven't paid the money.
"90 per cent of the team weren't playing regularly for their clubs and I got them up to speed before the tournament.
"I've been promised that I will get the rest of the money in the next 14 days. 
"This hasn't put me off working in African football again but I have missed out on work because of this, when I was waiting for the money in Ghana."
Nus and Lawrence are not new to the Ghana set-up. 
The duo first joined the Black Stars for the 2015 Afcon in Equatorial Guinea, and according to Nus in a recent interview, there was no payment problem after that tournament.
Ghana reached the semi-finals of the recent championship in Gabon.