Simba
Okwi: We want to end the season without tasting defeat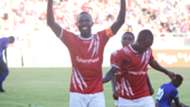 Simba striker Emmanuel Okwi has revealed that they plan to win all the remaining three games after defeating Ndanda FC 1-0 in the latest Ligi Kuu showdown.
Speaking after the match, Okwi said that all players know that there are a few points remaining before they confirm the title but they are very keen to win the remaining matches.
The Ugandan who scored the winner in the match said that there is a unbeaten record which they are chasing and they need to achieve that by winning all the matches.
"We are looking forward to the remaining matches, we want to win them all and finish the season unbeaten," said Okwi.
Simba will face Singida United in their next match on May 12th and a win would seal the title.