Africa Cup of Nations Qualification
Okumbi: Harambee Stars are spying on Sierra Leone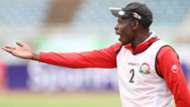 Harambee Stars coach Stanley Okumbi has revealed that his backroom staff is doing all it can to get vital information leads on their opponents in 2019 African Cup of Nations qualifier, Sierra Leone.
Briefing reporters at the team's training base in Machakos, Okumbi said, "The preparations are very okay. We're aiming to monitor all the locally based players. Apart from that, we have tried to study how they (Sierra Leone) play. We are studying their viedos to ensure we begin the campaign on a positive note."
Boost for Harambee Stars as defender joins camp
Okumbi reckons that proper knowledge of their opponents strengths and weaknesses is key and as a result is understandably leaving nothing to chance. Okumbi went on: "It's unfortunate that we missed the Angolan friendly which would have been helpful in our preparations."
The Stars travel to Freetown to tackle the hosts in first leg Group clash of the 2019 Afcon on June 10 hoping for a flying start. Other members in the group are Ghana's Black Stars and Ethiopia's Walya Antelopes.