Premier League
Officials paving the way for Ghana Premier League resumption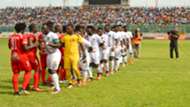 After more than three months of lack of football activities in Ghana, there is a silver lining that the game could return anytime soon after a meeting between the Normalisation Committee and the Ghana League Clubs Association(GHALCA).
Both parties said in a joint statement that they 'recognize the need to resume football activities in Ghana and most especially the welfare of players'.
The topflight and other domestic competitions are on suspension following the screening last June of a documentary by undercover journalist Anas Aremeyaw Anas, which exposed widespread corruption in the sport.
            
Joint Statement 

The Normalization Committee and the Ghana League Clubs Association (GHALCA) met on 26th
September,
2018 to discuss the way forward for Ghana Football.

Both parties recognize the need to resume football activities in Ghana and most especially the welfare of players.

The meeting also unanimously agreed on the development of a Competition. Once developed, details will be announced.

Both parties wish to reassure football loving Ghanaians that their game will be back with the excitement and professionalism that it deserves.

SIGNED:

MRS. LUCY QUIST KUDJOE FIANOO (Normalisation Committee)