Hearts of Oak
Noonan explains why Fatawu lost Hearts of Oak's captaincy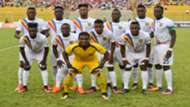 Hearts of Oak
managing director Mark Noonan has revealed that Fatawu Mohammed was stripped of the club's captaincy a fortnight ago because of his media outburst against internal policies.
The 26-year-old, in a recent interview, expressed his frustrations at the club's decision to sign only strikers from lower-tier sides, insisting that it shows lack of ambitions.
"I was upset and disappointed by the former captain's comments so I brought him into my office. We talked about it and later took the captaincy away from him because of his comments since it didn't represent a leader," Noonan told Citi FM.
"Any bad statement a captain makes about the club I'm leading, I will a have a big issue with that.
"We have a plan and the right leadership in place with new coach Kim Grant whom we've hired. Now is not the time to go out and buy a bunch of expensive players," he said.
"Nobody knows when we are going to have a league so there was no need for him to make such utterances. We will bring in reinforcement at the right time," he added.
Hearts have endured their worst run without a major silverware in the club's history since lifting the
Ghana
Premier League trophy in 2009.