Liverpool
Nobody knows just how good Shaqiri can be - Klopp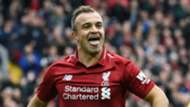 Liverpool manager Jurgen Klopp has sung the praises of Xherdan Shaqiri, saying the 27-year-old's ceiling is still unknown. 
The Reds snapped up the Swiss international for £13 million ($17m) from Stoke City in the summer, and that fee is already looking like a bargain.
Shaqiri has started back-to-back games for Liverpool, notching assists in both matches: a 1-0 win over Huddersfield in the Premier League and a 4-0 victory over Red Star in the Champions League. 
Klopp praised the 27-year-old after Wednesday's win over Red Star, and has done so again ahead of Liverpool's Premier League match against Cardiff City on Saturday. 
"I don't think anybody has an idea in the moment how good Shaq can be," the German manager said. 
Shaqiri has had a nomadic career to date, which has included stops at Basel, Bayern Munich, Inter and Stoke. 
Klopp recalls watching Shaqiri as a teenager at Bayern during his time managing Borussia Dortmund. 
"I knew him when he was 19 at Bayern and he was already an outstanding talent," Klopp said. 
"He had a good first year, second year he wasn't that good – but that can happen. Then he left. You can disappear a bit. Inter Milan and then Stoke.
"Signing him was a logical thing to do. He's still not the finished article. He still has a lot of space for improvement and that's really good.
"He gives us something different. So far we haven't really used his set-pieces but they are outstanding."