Singapore
Nike unveil Singapore's latest national team kit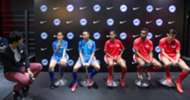 Singapore will be clad in a new Nike team jersey for the 2018 AFF Suzuki Cup. The Singapore national jersey unveiled earlier this week saw Johor Darul Ta'zim captain Hariss Harun, Young Lions' Jacob Mahler, PKNS FC winger Faris Ramli, and two women footballers, Suria Priya d/o Vaatharaj and Nur Emilia Natasha Bte Khairul Anuar model for the kit.
Its design is minimalistic with the colours of red and blue. Red represents the home jersey while blue is the away kit. For the home jersey, Nike got its inspiration from the mythical creature known as the Merlion – a half lion, half fish – which became Singapore's national symbol in 1964.
Significantly, the away blue kit symbolises the Republic's modernity with its towering skyscrapers and their dazzling presence as they reflect the ocean at night.
Singapore Captain Hariss Harun who has experienced wearing a few of the country's national kit spoke fondly of Nike's creation.
"In the past, when you play, the jersey used to stick to you but now with the new technologies like dri-fit, it really helps keeps us fresh."
 
"Over the years I must say the design of the kit has gotten better and better."
Singapore kick-off their AFF Suzuki Cup campaign against Indonesia on November 9.