Ligue 1
Nice weekend for Balotelli and Mbappe goes to Disneyland - Ligue 1 goes social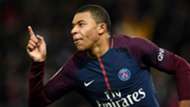 The Christmas holidays are nearly upon us, and even Ligue 1's best footballers are starting to get into the festive spirit.
At no club is this more evident than Paris Saint-Germain, where they have plenty to celebrate. They have made it comfortably through to the Champions League knockout stages where they'll face Chelsea, while their 3-1 victory over Lille on Saturday means that they are guaranteed to finish the year top of the table.
And the players took a well-deserved break on Sunday with a trip to Disneyland Paris, where they spent an enjoyable day in the company of Mickey Mouse and friends.
Perhaps it is of little surprise that it was Kylian Mbappe who seemed to enjoy the day most, with the 18-year-old the baby of the squad and often compared to a Teenage Mutant Ninja Turtle. 
He added a picture of himself with the bulk of the squad enjoying themselves to his Instagram account.
Mbappe has had a very productive week, having got right back on the goal trail. With no Neymar on Saturday, he showed that he can be PSG's main man in attack, creating one and scoring another – a spectacular breakaway when the Lille goalkeeper had gone forward for a free-kick. 
Unfortunately, though, he chose not to use his FIFA celebration, which he showcased on Instagram on Friday.
A post shared by Kylian Mbappé (@k.mbappe29) on Dec 8, 2017 at 4:16am PST
For Neymar, it has been a difficult week. Frozen out of action against Lille due to a ban then given permission by the club to return to Brazil at the weekend due to personal issues.
Nevertheless, he has still managed to get out and about, meeting former PSG hero Nene and Jessica Garducci.
He also posted a cute picture of himself with his son, with the tag: "Just a little bit more, daddy."
A post shared by Nj neymarjr (@neymarjr) on Dec 7, 2017 at 4:33am PST
Nice striker Mario Balotelli often posts pictures of his children to his social media followers and continued that trend this week with a hilarious image of his daughter, Pia.
"Best wishes to my special princess," he posted before going on to score the winner for Nice away to Nantes on Sunday.
While he was on the field, part of his thoughts were clearly turned towards the Manchester derby, a fixture he knows well from his time with City. To celebrate that game, he posted a graphic of himself with his iconic 'Why Always Me?' T-Shirt he revealed after scoring a goal for the Citizens during his time at the Etihad.
"Come on city," he wrote – giving him double cause for celebration. 
Christmas may be just around the corner, but there is no time for Ligue 1's best to rest yet; there are still Coupe de la Ligue matches to play in midweek and two rounds of league fixtures to cram in before the break.