Newcastle Jets
Newcastle Jets cannot make finals, says coach Ernie Merrick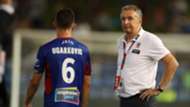 Newcastle Jets coach Ernie Merrick has all but conceded his team's hopes of playing in the A-League finals series ahead of this weekend's match against Western Sydney Wanderers.
The Jets are currently in seventh position - seven points behind sixth-placed Melbourne City with four matches to go before finals - as the Wanderers come to visit McDonald Jones Stadium on Saturday.
Merrick admitted his team were unlikely to close the gap after conceding seven goals in consecutive losses to Wellington and Central Coast.
"I don't think we are going to make the finals and we're very disappointed by that," Merrick said.
"[Wellington] was a very tough defeat to take away from home - 4-1. In fact the last two games we have played well below what we are capable of. 
"I think it means we haven't got much chance of making the finals. We've got four games to go and we're certainly going to do our best to win all four and play well.
"When you're in a situation when you are waiting for teams to lose matches, I don't think you are in a good place. 
"I can't see anyone losing two more games than us."  
In addition to the Wanderers, the Jets will take on league leaders Perth Glory away, Brisbane Roar on the road and Sydney FC at home.
With this season petering out to a close, Merrick indicated he is keen to lead the club next season and insisted improvement will be made.
"We feel as if we have let the club down and the supporters down," he said.
"But we are going to work very hard to build a stronger team for next season."