Manchester United
Neville has a 'very clear idea' who will replace Mourinho at Man Utd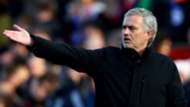 Jose Mourinho is committed to Manchester United until 2020, but Gary Neville has "a very clear idea" who will succeed the Portuguese.
Having initially penned a three-year deal upon his arrival at Old Trafford, the man at the Red Devils helm penned fresh terms in January which include the option for a further 12 months through to 2021.
Mourinho has vowed to oversee a long-term project in Manchester, with his debut campaign having delivered three trophies and 2017-18 seeing United push back into the Premier League's top four.
There will, however, come a time when he vacates his post, and Neville believes he already knows who the Red Devils will turn to.
An Old Trafford legend told Yahoo Sport: "I do have an opinion on my own club, but I'm not willing to share it with you because I want Jose Mourinho to continue.
"I have a very clear idea of who I think the next Manchester United manager should be, but I want Jose Mourinho to be successful first before that happens.
"I believe he will be successful because he's always been successful wherever he goes.
"However, I believed that David Moyes and Louis van Gaal would be successful, because I am a fan of the club and I have to believe in the club's managers as a fan.
"You sometimes lose that faith over a period of time watching them, but on the other hand, from a point of view of Jose, now that he's been supported with a new contract and he's been supported with investment in the transfer market, the club need to now go the whole hog and make sure they support him in the future, for the next year or two, to be able to win that league."
Neville added: "Jose is not going to win the league for the first two seasons it looks like, but I'd still advocate him being given that third season to go and try and win it.
"Jurgen Klopp hasn't won a trophy yet at Liverpool, but I think the quality of the football and what he's doing there means that ultimately he should be given more time to try and accomplish it, because the direction looks good.
"[Mauricio] Pochettino at Tottenham hasn't won a trophy yet, but the direction and the quality is there.
"So it's not always as easy as saying, 'If they don't win a trophy do we need to change managers?' or 'If they have won trophies, do we stay with them forever?'
"It's more around 'Is the direction right? Is the quality there? Are the performances good?' and I suppose it's when you start to see the plateau and the tailing-off, you start to think 'oh, here we go'."