Radja Nainggolan
Nainggolan blasts 'pathetic' Martinez excuses over Belgium omission
Radja Nainggolan has slammed the "pathetic" excuses used to justify his exclusion from the Belgium squad and has vowed never to return to the fold.
The 30-year-old midfielder, who has earned 30 caps for his country, was overlooked by Roberto Martinez for World Cup duty over the summer .
That snub did not sit well with a man who was a regular with Roma at the time and was heading towards a switch to Inter worth €38 million (£34m/$43m), with his international retirement having since been announced.
Nainggolan admits that he remains baffled by the selection calls and claims he would not consider a recall even if Martinez were to be replaced at the helm.
He told ESPN FC: "I'm not going back to the national team again. I said that if I don't go to the World Cup, I'll quit, and I'm a man of my word.
"I play my football here [at Inter], with lots of love for what I do, but I have a different life outside of here.
"If they change the coach tomorrow and he says: 'Come on, come on' - it's still no. Because when I make up my mind, I stick to it. It's not like I say I'm not interested while this coach is in charge - for me, when I say it's over, it's over because I've thought it through well.
"Each time there's an international break now, I get four or five days off and I'm happy as I can concentrate on Inter and other things.
"It was a great experience, I had a great European Championship and that's enough. They were great experiences on a personal level.
"I'm a fan of my national team-mates - I like them all and have a great relationship with all of the players, it's just there are some things I cannot accept, some decisions made about me."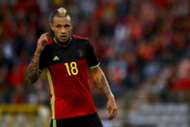 Nainggolan figured in all of Belgium's games at Euro 2016 under Marc Wilmots but was snubbed when Martinez pieced together his plans for Russia, with the Spaniard claiming that his absence was down to tactical plans.
"I was really, really disappointed with the fact that I'd played a great European Championship and then I was discarded for nothing," added Nainggolan.
"I see things differently: in Belgium, there were players who were not playing at club level and they were getting called up.
"I was playing 50 games and was still being left out. I was never demanding that I had to play, I just deserved to be there in place of some other players.
"Then there were the excuses, but they were all pathetic.
"Why was I playing 50 games for Roma if I was leading the same life [I was being criticised for]?
"I think it's wrong when people say things without speaking to me first. You've got to say things to my face, we can have a talk and then we shake hands and you don't call me up again but I've got more respect for you than somebody who doesn't do that."