Arsenal
'My stomach turns and I want to vomit' - Arsenal's Mertesacker reveals pre-game pressure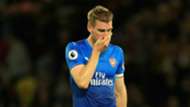 Arsenal defender Per Mertesacker has confessed that the pressure before big games can have an adverse effect on his stomach as he laid bare the "burden" of being a professional footballer.
The former Germany international, 33, is no stranger to the game's most important fixtures. 
He was a part of the Germany team that lifted the World Cup in 2014, and also represented his nation in the two previous tournaments on home soil and in South Africa. 
But, despite his immense experience, Mertesacker admits that he does not enjoy the adrenaline that comes with crunch matches. 
"Some days you realise that everything is a burden, both physically and mentally," he explained to  Spiegel .
"That it's not about fun, but you have to deliver without a doubt. Even if you are injured.
"In the moments before a game starts my stomach turns around as if I had to vomit. Then I have to choke so violently until my eyes tear."
Mertesacker's worst moment as a pro came in the 2006 World Cup, when he was just 21.
He admits that, despite losing to Italy, he was relieved to have got through the semi-final match in one piece.
"Of course I also was disappointed when we were beaten by Italy. But above all I was relieved," he added.
"I still remember it as if it were today, I just thought: It's over, it's over. Finally it's over."