Transfers
Mourinho's shadow looms large over under-pressure Spalletti at Inter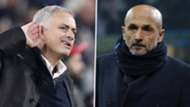 Given food and calcio are such staples of Italian culture, it is perhaps unsurprising that the lexicon of one is sometimes borrowed by the other for metaphorical purposes.
'Non mangia il panettone' ('He's not eating panettone') is perhaps the most famous example in the world of football, an ominous prediction that a coach is in such a perilous position that he is unlikely to still be in a job when he sits down for his Christmas dinner to enjoy the traditional festive dessert. 
Luckily for Luciano Spalletti, he should still be Inter coach when he eats his panettone on December 25. Whether he enjoys it, though, is another matter altogether.
After all, Tuesday's shock news from Manchester United means that the shadow of Jose Mourinho is now looming large over San Siro.
The Portuguese may have lost the support of everyone at Old Trafford but he remains revered on the Curva Nord for masterminding a historic treble triumph before departing for Real Madrid in 2010 – and his recent ear-cupping and three-fingered salute after a victory over Juventus in Turin went down a storm with Nerazzurri fans. 
As the Corriere dello Sport put it on Wednesday morning, "Mourinho chased out by United and becomes the dream of Interisti".
Why? Because with Mourinho, Inter won the Champions League; with Spalletti, they have just been knocked out at the group stage.
That elimination was as devastating for Spalletti as it was ill-timed. He had been under enough pressure as it was, forced to put up with constant stories that he was merely keeping the hotseat warm for former midfielder and current Atletico Madrid boss Diego Simeone, who admitted again this week that he plans to return to San Siro as coach one day. 
Spalletti was handed a contract extension until 2021 in August, but he was also given a squad many deemed capable of challenging for the Scudetto, thus earning Inter the title of the "anti-Juve" even before the season began.
A sluggish start put paid to those hopes and the one saving grace for Spalletti was that progression to the last 16 of the Champions League looked likely after the Nerazzurri accrued seven points from their opening four games in a tough group containing Barcelona, Tottenham and PSV.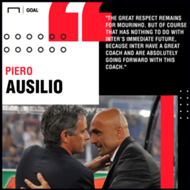 Even a London loss to Spurs wasn't deemed disastrous, as Mauricio Pochettino's men had to go to Camp Nou on matchday six. Inter, by contrast, were hosting already-eliminated PSV at San Siro and bettering Tottenham's result in Catalunya would see the Nerazzurri through in second place.
They didn't win, though. Even though Spurs were held by an under-strength Barca, Inter drew 1-1 with PSV. 
It was meant to be a night of celebration at San Siro, qualification coupled with official confirmation of Beppe Marotta's appointment as the club's new CEO providing ample evidence that the Nerazzurri were back among Europe's elite.
Instead, Spalletti was left standing all alone in the spotlight for all the wrong reasons. 
Suddenly, the arrival of Juventus' former transfer market maestro was construed as bad news for the coach, given Marotta's ties with Antonio Conte, the man who led the Bianconeri to the first three of their seven consecutive Scudetti.
Conte may still be involved in a legal wrangle with former club Chelsea but the ex-Italy boss is expected to return to coaching next summer, creating the suspicion that Spalletti had until the end of the season to win over Marotta.
The CEO did his best to dismiss such talk, pointing out, "I have already said Spalletti is a very good coach, who did well throughout his career, so we've got to let him work in peace."
Mourinho's sudden availability means there is no chance of that happening now. 
Last Saturday's laboured victory over Udinese – a first win in five games – should have provided some welcome relief for Spalletti but by Wednesday Inter felt compelled to offer him a vote of confidence following the dramatic developments in Manchester.
Sporting director Piero Ausilio stated: "The great respect remains for Mourinho, but of course that has nothing to do with Inter's immediate future, because Inter have a great coach and are absolutely going forward with this coach."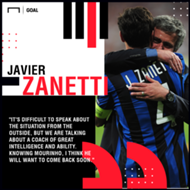 The links are unlikely to go away any time soon, though, primarily because Inter's current vice-president is the treble-winning captain, Javier Zanetti, who has previously admitted that he still has "an excellent relationship" with his former boss.
"Mourinho worked a lot on concentration, his training exercises were very intense," the Argentine told Radio Deejay on Tuesday. 
"It's difficult to speak about the situation from the outside, but we are talking about a coach of great intelligence and ability. 
"Knowing him, I think he will want to come back soon."
Former Inter president Massimo Moratti has already admitted that he would like Mourinho to make his eagerly-awaited comeback at San Siro, before hastily adding, "But we'll give Spalletti time to prove his worth."
Essentially, the current coach's every move will now be scrutinised even more intensely than before and Spalletti had already been feeling the pressure as it was, even suggesting that Marotta's public support is only fuelling the speculation surrounding his job.
Marotta's response was essentially that it won't be him that decides Spalletti's fate – but results.
"The club has to put the coach and his players in the condition to give their best," the former Juventus director general acknowledged.
"But then it's up to the coach to get the best out of his squad. 
"After that, all we've got is the verdict on the pitch."
Essentially, fail to beat Chievo this weekend and Spalletti's panettone won't taste anywhere near as sweet as usual.