Transfers
Motaung: Kaizer Chiefs are not going to be aggressive in the transfer market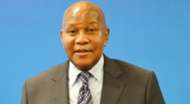 Kaizer Chiefs chairman Kaizer Motaung has admitted that they somewhat got it wrong in terms of recruiting new players at the beginning of last season.
The 72-year-old said there are at least three or four players who really didn't live up to expectations this past campaign without mentioning their names.   
The likes of Lewis, Keagan Buchanan and Michelle Katsvairo found the going tough at the Soweto giants and hardly featured in Steve Komphela's team for various reasons. 
"Well it's no secret that we've got players who' in our view' we thought were very good and quality players'" Motaung told the media.
"But they ended up on the bench' and some of them not even on the bench. So, sometimes we get it right and sometimes we don't get it right. The decisions that we took' based on information that we had gathered – unfortunately it didn't turn out to be exactly what it was,." he said. 
"Unfortunately there are three or four players who really did not do anything' did not even play 5% or 10% of the games. So, that tells you a story," Motaung continued. 
The Amakhosi boss however, said the club will not be aggressive in the upcoming transfer window, saying they will only look to bring the players who will help improve the team. 
"Well' we just have to consolidate and look at the areas where we feel there are gaps, and then be able to address those areas. If we can do that' then I think we'll be home and dry, but obviously it doesn't mean that we should just go mad in the market. But we should take the right decisions and get the right skills where we need them," he explained.
"We're not going to be aggressive (in the transfer window). We're going to be in the market if we have to' in terms of what we need," concluded Motaung.