Transfers
Motaung identifies departments that need reinforcements at Kaizer Chiefs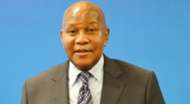 Kaizer Chiefs chairman Kaizer Motaung has revealed that the team will look to strengthen their defence as well as their striking departments ahead of next season. 
The 72-year-old's assessment is that team didn't perform well defensively, and he also pointed out that they will need a quality striker who can finish the chances the team creates week in and week out to be able to compete for honours again. 
However, Motaung warned that they will tread carefully in the transfer market and not sign anyone who is available for the sake of reinforcing the squad. 
"We will obviously go into the market depending on the requirements. You don't just go into the market because it's end of the season," Motaung told reporters. 
"Everything should go according to your plan - what you want to achieve in the next season and where you want to plug the gaps and which areas you want to address," he said. 
"One thing which is very clear is that our defence didn't perform very well this time, and of course upfront, I can say the same because we haven't done well in terms of scoring goals, although we are not very far from other teams. The fact is that we have had games where we should have won, but because of a lack of that final bite upfront, we didn't succeed," he continued.  
"So, those are the two areas we will have to look at, and look at other areas where we will need to plug the gaps," added Motaung.