Goal 50
'Modric deserved to be named world's best player' - Luis Figo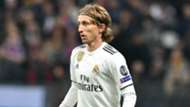 Luis Figo feels that Real Madrid and Croatia ace Luka Modric is a worthy winner of this year's Goal 50. 
It was revealed on Tuesday that the midfielder had finished top of our annual list of the world's top performers from the preceding 12 months, just ahead of Cristiano Ronaldo and Mohamed Salah. 
It caps a remarkable year for Modric, who helped Real Madrid win a third successive Champions League in May before then leading his country to the World Cup final. 
"He is one of those who certainly deserved an individual prize," former Madrid winger Figo told Goal.
"These awards are always subjective but, without a doubt, Modric has had a wonderful season. 
"He made the difference with his national team and with Real Madrid.
"For this reason, his prize is well deserved.
"I live in Madrid and although we did not play together, we attended the same places, knew the same people, also shared family moments together.
🏅 Luka Modric being named the best player in the world

👀 Which players have impressed him in 2018

✍ Eden Hazard to Real Madrid

We spoke to Luis Figo! #Goal50 pic.twitter.com/FkHTo8Zyj2

— Goal (@goal) November 14, 2018
"He is a great person and it makes me happy that this year he has won so many individual trophies."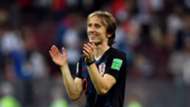 Lionel Messi has enjoyed another fine year with Barcelona, winning a domestic double last season before starting the current campaign in fantastic form.
However, in between, the No.10 suffered more heartbreak at international level, with his native Argentina eliminated by France in the last 16 of the World Cup in Russia. 
Messi was, thus, criticised for perceived lack of leadership but Figo believes it is unfair to judge the 31-year-old too harshly for the contrasting quality of his performances for club and country.
"The team-mates are not the same, the tactical systems are not the same, the opponents are not of the same type," the former Portugal international argued.
"When the quality [of the team] is lower, it becomes more difficult for a player to win a tournament like a World Cup on his own. 
"He can make a difference in one or two games, but it's hard to get to victory without having a high-level team. 
"I think this is the big difference: between his club and the national team, there are different situations and limits that affect his performances."
The Goal 50 is an annual award that both recognises and ranks the world's 50 best footballers of the preceding 12 months. Chief editors and correspondents from Goal's 42 editions around the world all cast their votes, with candidates judged on their level of consistency over the previous year of action, their big-game performances, footballing legacy and the success of their teams at both club and international level.