Egypt
Micho: Individuals Salah and Messi can't win World Cup alone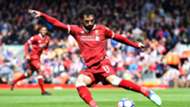 The Pharaohs return to the World Cup finals after an 18-year absence with Salah expected to be their trump card.
They tackle hosts Russia, Uruguay and Saudi Arabia in Group A. Barring injury between now and the eve of the tournament, Salah will arrive in Russia buoyed by a stellar season with Liverpool that saw him being crowned the FWA Footballer of the Year and the PFA Players' Player of the Year.
In securing the World Cup ticket, Salah scored five goals including a dramatic injury time penalty against Congo Brazzaville which sealed a berth in Russia.
Undoubtedly, the 25-year-old would be Egypt's star attraction, shouldering much of their hopes of becoming the first African country to reach the World Cup semifinals.
Former Uganda coach Sredojevic cannot not hide his admiration for the Liverpool star but warned on solely relying on Salah.
"One player alone – and you can see it in the case of Argentina (and star forward Lionel Messi) – cannot carry the team alone," Kingfut reported Micho as saying.
"(In the international friendly between Egypt and Portugal in March) they could take the lead but then in two minutes it could all fall down because simply to reach the highest level, football has gone that far that you need to have a group of players, not one individual to carry the team."
Sredojevic, a veteran African football coach last year led Uganda at the Africa Cup of Nations finals in Gabon and had taken charge of the Rwanda national team in the past too.
The Pirates gaffer referenced how Argentina sensationally collapsed to lose 6-1 to Spain in an international friendly match in March with Lionel Messi absent.
"Salah's shoulders can carry the team to a certain level but when it comes to the best results and performances, the power of individuals fall down and cracks appear, like Spain showed (against Argentina in a recent friendly international), added Sredojevic.
"Time when individuals – Maradona in 1986 and 1990, Roberto Baggio with Italy – carries the team alone, or two players – Bebeto and Romario for Brazil – have slowly gone.
"I have the sense, as a technical person, that the power of making results go towards the team lies not only with individuals (anymore)."
Recently Argentina coach Jorge Sampaoli admitted that he always tries to model his team's play around Messi, although when the Barcelona star is not at his best, La Albiceleste often struggle.