Mexico
Mexico federation president resigns, Liga MX announces tweaks to promotion-relegation system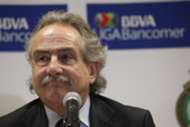 Friday was a day of change in Mexican soccer, with two major decisions announced after Liga MX owners met in Toluca.
The president of the Mexican federation (the Federacion Mexicana de Futbol), announced his resignation effective once Mexico's participation in the 2018 World Cup concludes. Decio de Maria took over the job in 2015 after long-time president Justino Compean stepped aside because of personal reasons. De Maria now is doing the same, and a successor already is in place.
Yon de Luisa, currently the vice president of sports for Grupo Televisa and also the Mexico bid director for North America's joint bid to host the World Cup, was approved by unanimous vote, according to a statement.
De Luisa, 46, previously worked as the sporting vice president of Club America, which is owned by Televisa, and also "had an active role in the return of National Football League (NFL) matches played in Mexico City," according to his United Bid biography.
De Maria's decision took many by surprise with Veracruz owner Fidel Kuri telling MedioTiempo "I thought it was a joke."
"Personally, Decio's decision surprised me, but, well, it's the decision he made and you have to accept everyone's decisions," said Kuri, who attended the meetings despite currently being suspended from taking part in federation. "He said he had 18 years working (in the federation) and he wanted to finish the World Cup and retire. He wants to rest now, although I think a person like him will be missed in the federation. Hopefully he stays as an adviser or something."
The league also announced long-rumored changes to its promotion and relegation system, though it remains unclear exactly how the measures will be implemented. What is clear is that the process this year, of sending down the team that performed worst over the past six seasons and promoting the winner of a playoff between the two winners of Ascenso MX's short seasons, will stay the same.
In 2018-19 and 2019-20, however, the league could increase to a maximum of 20 teams - doing away with relegation but promoting a team from the Ascenso. However, that isn't a guarantee according to Friday's statement.
The league will allow only the "promotion of certified clubs who meet the participation requirements included in the internal rules of the Liga MX. At the same time, the possibility that the club that finishes in last place of the (relegation table) will be able to save its place in the division at which time it will make an economic contribution to be utilized in the benefit of both divisions (LigaMX/Ascenso MX) in accordance with the project of improving our soccer."
Between stadium size and financial regulations, only six current second-division clubs meet the regulation though others, including Ascenso Apertura champion Alebrijes de Oaxaca, could become compliant in the near future.