Mesut Özil
Mesut Ozil net worth: Arsenal midfielder's salary, sponsorship & girlfriend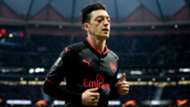 Mesut Ozil won World Cup 2014 with the Germany national team and multiple FA Cups and Community Shields with his current club Arsenal, marking him as one of the best players in the Premier League.
The midfielder signed a new contract to extend his stay at Arsenal in January 2018 and is now the second-highest paid player in the English top flight, behind former team-mate Alexis Sanchez at Manchester United.
Ozil recently retired from German national team following criticism of his performances at the 2018 World Cup, claiming he was made a "scapegoat" for the entire team. He announced this via social media with a series of letters in which he criticised the German FA (DFB) for making him "no longer want to wear the German national team shirt".
---
What is Mesut Ozil's salary?
---
In January 2018, Ozil signed a new three-and-a-half year contract with Arsenal and is reported to earn £350,000 a week. The current deal runs until June 2021.
He is currently the highest-paid Arsenal player and holds the second-highest transfer fee for a German player in the Premier League at £42.3 million just below Leroy Sane's £46m move to Manchester City in 2016. 
| Timeframe | Earnings |
| --- | --- |
| Per second | £0.33 |
| Per minute | £19.84 |
| Per hour | £1,190 |
| Per day | £28,571 |
| Per week | £350,000 |
| Per month | £1.4m |
| Per year | £18.2m |
*Based on reported Arsenal salary
---
What sponsorship deals does Mesut Ozil have?
---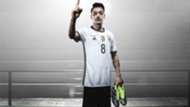 Ozil's most significant sponsorship deal is with Adidas, which he signed shortly after joining Arsenal on a seven-year contact. The deal is thought to be worth approximately £25m. 
At the beginning of 2017, Ozil signed a deal with Beats by Dr Dre. He appeared in an advert alongside Tottenham forward Harry Kane and PSG's Neymar. 
The midfielder also works with footwear charity BigShoe, which helps children from poverty-stricken backgrounds seek the medical treatment they require. 
Since June 2016, Ozil has been a brand ambassador for Mercedes-Benz, who also sponsor the Germany national team.
Following on from his retirement from international football, Ozil has accused Mercedes-Benz of 'airbrushing' him out of their World Cup promotions which is credited to his meeting with Turkey president Tayyip Erdogan.
---
How many social media followers does Mesut Ozil have?
---
A post shared by Mesut Özil (@m10_official) on May 17, 2018 at 11:51am PDT
At the time of writing, the Arsenal midfielder has 17.5m followers on Instagram, which he keeps regularly updated including images of his professional and personal life. More recently, he used the platform to post three separate posts explaining his reasoning behind retiring from the national team. 
Ozil has 23.1m followers on Twitter and his Facebook page is liked by around 31.5m people.
The 29-year-old's social media profiles combined make him the most followed player in the Premier League.  
---
Who is Ozil's partner?
---
Ozil is currently dating Amine Gulse, a model and actress who won Miss Turkey in 2014 and represented Turkey at a Miss World pageant. 
It's believed the pair met in 2014 and Ozil proposed to Amine in March 2017. Although a date for the wedding hasn't been confirmed, unofficial reports suggest it may be in 2019.
---
What is Ozil's net worth?
---
Although Ozil's net worth cannot be 100 per cent confirmed, it's estimated to be about £36m. This is considering his wages from Arsenal, sponsorship deals and property investments.
According to Forbes, Ozil is the 17th highest-paid player in the world.