Transfers
Messi is happy to have you - how the world reacted to Courtois' Real Madrid move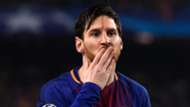 As expected, the world has been reacting to the news of Thibaut Courtois' move from Chelsea to Real Madrid.
The reigning European champions forked out €35m (£31m/$40m) plus a season-long loan move for Mateo Kovacic to Stamford Bridge.
Courtois, who has been with the Roman Army since 2011 was named best goalkeeper at the 2018 Fifa World Cup Russia.
Here is how social media have reacted to the 26-year-old's move, with many tipping Barcelona's Lionel Messi to score goals aplenty when they face Madrid.
Welcome back to LA Liga Thibaut Courtois!

Real Madrid are happy to have you. Oh and Messi is too 😊 pic.twitter.com/Bx5Pa460U5

— Teto Barça (@TetoBarca_) August 8, 2018
Welcome back sir @thibautcourtois pic.twitter.com/3pqjs6N7cu

— Messi 🇫🇷 (@FranciaMessi) August 8, 2018
Welcome back to La Liga, Courtois! pic.twitter.com/qZd36fxG9Z

— Messi World (@MessiWorId) August 8, 2018
i knew we'd sign Courtois after Messi put the ball between his legs multiple times

— Jon Kaan (@DonJonPablo) August 8, 2018
When Messi heard that Courtois Real Madrid 🤣🤣😀😀 pic.twitter.com/swhIt9ueoH

— Shina Oludare (@sportingshina) August 8, 2018
Bye Courtois you'll be missed... pic.twitter.com/mR9ErXSVL4

— T (@HazardFIicks) August 8, 2018
Courtois off to Madrid. Best goalkeeper of the World Cup? Messi's personal lapdog pic.twitter.com/q93mlpOMkr

— R (@MessiZoneV3) August 8, 2018
Welcome to Messi's League ❤️💙Thibaut Courtois
But I'm sorry if you can't deal with balls like this you better return back to England 🏴󠁧󠁢󠁥󠁮󠁧󠁿.. pic.twitter.com/UPGX47f1TR

— Andy Carter (@Thacarter228) August 8, 2018
Welcome, Courtois 🥚 pic.twitter.com/psIavwM0mJ

— Ahmed. (@A7mds10) August 8, 2018
When Lionel Messi heard Thibaut Courtois has joined his foundation. pic.twitter.com/uIFeOau3oR

— follow back please... (@kingboluwatife) August 8, 2018
News: Courtois joins Real Madrid!
Messi's wife: pic.twitter.com/HE9woG7LNu

— J.P (@gaa_jp) August 8, 2018