Arsène Wenger
Mertesacker's emotional Wenger tribute sets Arsenal trophy target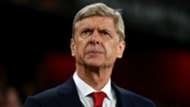 Per Mertesacker has posted an emotional tribute to outgoing manager Arsene Wenger and stated a desire within the Arsenal ranks to send their iconic manager off with major silverware.
After 22 years with the Gunners, the long-serving presence in north London has revealed that he will be stepping down at the end of the season.
Wenger is walking away having failed to maintain the standards which once saw him land Premier League titles, grace the Champions League and negotiate an entire top-flight campaign unbeaten.
He will be leaving Emirates Stadium with his legacy well secured, but current Arsenal captain Mertesacker is determined to see him bow out in style with a Europa League triumph – with the Gunners readying themselves for a semi-final showdown with Atletico Madrid.
Mertesacker wrote in his programme notes ahead of a Premier League meeting with West Ham: "It is only right that I begin these notes by paying tribute to a man who has taught me so much, both on the pitch and as a human.
"We were only informed on Friday about the manager's decision to step down at the end of the season, so it's still quite emotional.
"Obviously he has been at the club for such a long time and he has been so supportive to me.
"One major reason why I'm here is because of him. It's been emotional and there will be time to digest it but it is a sad feeling right now.
"He's been the major figure of this club for more than 20 years. He's been so impressive for me and he has trusted me so much throughout my career, in bringing me here and making me captain even when I was injured.
"He also gave me a future role here at the club so I am very grateful and humbled for the opportunity he gave to me.
"It is a sad day for me but we're also moving forward for the future. It is in Arsene's interest as well that this club will give positive memories to the fans and the people.
"The boss has brought in the right people at the right time and has had continuous success.
"That really amazed me, in terms of his football knowledge and what he has brought to this country and this club. It was so instrumental for what followed in the coming years.
"The people that he hired and the players he's signed have always made a difference.
"I was just amazed how a coach could be such a main figure to the club, which needed him to grow as quickly as the club did.
"There's now an emphasis on us doing it for him too. We want to give him the send off he deserves: with a cup."