United States
McKennie excited for 'big experience' of facing England at Wembley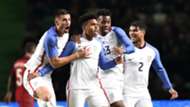 Weston McKennie knows the challenge facing the U.S. national team on Thursday when they take on England at Wembley, but the Schalke midfielder is excited by the opportunity. 
Schalke midfielder McKennie is part of a young core that has been brought into the fold over the last 12 months as the United States looks to build for the future after missing out on the 2018 World Cup. 
The goal has clearly been to get the next generation of players experience at the top level, with the U.S. having already faced off against the likes of Mexico, Brazil, France and Colombia over the course of 2018. 
Though they may all be friendlies, two more matches against top sides await, with England next up and a clash against Italy to follow on Tuesday. 
The results have been decidedly mixed, with the U.S. falling to Brazil, Colombia and an experienced Ireland side while earning a win over a well-rotated Mexico team and a credible draw with eventual World Cup champions France just before the start of the competition in Russia. 
Now comes a clash against an England team loaded with top talent, and while McKennie understands the challenge at hand, he is relishing the chance for the U.S. to once again test itself against high-level opposition. 
"Definitely, a lot," he told reporters when asked if he was excited to be playing England at Wembley. "To be able to see where we are at compared to these type of countries. We have played a lot of great countries in the past such as Brazil, France and even Ireland.
"I think everyone respects the Premier League and most of these players play in it. It will be a good match and a big experience for us."
One thing the U.S. can look forward to is the availability of playmaker Christian Pulisic, who has missed out on nine of 10 matches for the side since the loss to Trinidad and Tobago last year that ended the USA's World Cup dreams. 
Pulisic, along with youngsters McKennie, Tyler Adams and Tim Weah, are seen as the core of what looks to be a promising future for the U.S., though the match against England could be the first time all four step foot on the same pitch with the full national side. 
And, though McKennie and Pulisic are rivals at the club level, the Texas native still sees the Dortmund attacker as something of an inspiration for himself and other young American prospects, like Josh Sargent, who have made the choice to move to Europe rather than chasing a spot in Major League Soccer. 
"I guess to see him was a big stepping stone for a lot of young players in America," McKennie said of Pulisic. "Many of us looked at him and saw it is possible for us to make that move. There are success stories because before a lot of people looked at us American soccer players who moved over to these European clubs and thought we stayed there for a year and then didn't hear about us ever again.
"So he is definitely one of those players who showed a positive side to it and how it could be a success, if it worked out for you. It is a big inspiration."