PSG
Mbappe is going to see many reds this season if he continues like that – Savanier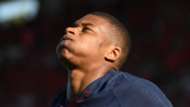 Paris Saint-Germain prodigy Kylian Mbappe is destined to see "many" red cards this season, according to Nimes midfielder Teji Savanier.
The pair clashed in stoppage time of Saturday's Ligue 1 meeting at Stade des Costieres, with both men dismissed in the closing moments of PSG's 4-2 success.
Mbappe has refused to be repentant regarding the incident, which came about after he was tackled hard by the home player. 
"The same foul when there was an intention to play the ball, that's no problem, but he didn't have that and we all so it," the teenager said. "It's an action that doesn't have a place on the field."
Savanier, however, has taken a differing viewpoint.
"For me, it wasn't malicious, that's just his perception," he said. "I'm going to look at the images and the League will look at them too. They'll see that I wasn't trying to injure him or break his leg. It's my knee that hit his foot.
"I didn't see it coming. I was surprised when he reacted like that."
Mbappe said that he would happily react in the same way again, prompting an interested reaction from his adversary.
"Ah really? If he continues like this, he's going to see a lot of red cards this season," Savanier said, admitting that he felt the striker was tetchy throughout. 
"When he was booked in the first half, it's because he spoke back to the referee. I've never seen him speak to the referee like he did when I've watched him on TV. I think he's going to regret it.
"It's something I regret because I'm going to be suspended for the next few games."
Mbappe will definitely miss PSG's home fixture against Saint-Etienne on September 14, while Ligue 1's Disciplinary Commission will meet to decide if his dismissal merits an additional ban.