Mbao
Mbao's Kiyombo included in Ngorongoro Heroes squad ahead of Mali clash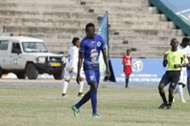 Tanzania U20 (Ngorongoro Heroes) Coach Ammy Ninje has bolstered his attack ahead of Sunday's Second Round first leg clash against Mali with the invitation of striker Habibu Kiyombo.
Kiyombo, who plays for local side Mbao, is expected to provide more attacking options to Ninje's squad, after failing to find the back of the net in their previous round clash against DR Congo. The East Africans went through 6-5 on penalties after a 0-0 tie on aggregate.
"I understand that we are facing challenges in attack but we are working on that each day. I'm hoping we will see changes in the coming game," said Ninje.
"We hope that Kiyombo will add something new. He is a good forward and has nine goals in the Tanzania Premier League and six in the FA Cup. He is a quality striker," added Ninje.
Alongside Kiyombo, Ninje has included Yanga's goalkeeper Ramadhan Kabwili in his squad.
The winner over the two legs will qualify to the ultimate round of the qualifiers, which will give birth to seven teams to join host Niger for the final tournament scheduled for 2-17 February 2019.