Young Africans
Match Preview: Yanga vs Singida United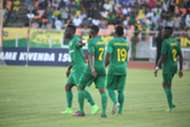 Yanga will play host to Singida United on Wednesday in matchday 22 of the Ligi Kuu at the Benjamini Mkapa National Stadium, Dar es Salaam.
This will be a reverse fixture, the two teams met for the first time in October last year where the tie ended scoreless.
The Jangwani Boys will enter the match with 46 points, six behind the league leaders Simba who beat Mtibwa Sugar away on Monday.
This could be a chance for George Lwandamina's men to get a revenge for the FA Cup defeat.
However, the Zambian coach has dismissed the claims and suggested that the match will be used as preparation ahead of their second leg game with Ethiopia's Wolayta Dicha on April 18.
Speaking to Goal , Lwandamina who reportedly rejoin his former club Zambia's Zesco United said that both games are important for his side. He added that, he will use Singida United as preparation ahead of Dicha clash but he also wants points against them in order to maintain their pace in chasing the Ligi Kuu title for the fourth time in a row. 
"There is no time for revenge for us, we need to prepare ourselves ahead of Dicha clash but also we need points in order to maintain our pace in the Ligi Kuu chase, so this game with Singida United is very important," said Lwandamina.
It remains to be seen if Lwandamina will be on the bench for today's match or not, as speculations are suggesting that he has departed to Zambia since last weekend.
Yanga's Donald Ngoma, Amis Tambwe, Vicente Andrew are doubtful to feature in this game due to injuries.
Both Ngoma and Tambwe sustained injuries in training last week when they were preparing to face Dicha while Andrew "Dante" was injured during the match where he was replaced by Nadir Haroub "Cannavaro".
However, Yanga will be boosted by the return of Kelvin Yondani, Papy Tshishimbi, Juma Said and Obrey Chirwa who were sidelined in the CAF Confederation Cup clash over Dicha due to suspensions. 
Meanwhile, Singida United they will approach this game with a lot of confidence because of their impressive record against Yanga. 
This will be the fourth time the two teams are facing each other in all competitions this season, in the last three matches, they have drawn twice (Mapinduzi Cup, Ligi Kuu) and Yanga losing once (FA Cup).
The Singida based side under Dutchman, Hans van Pluijm who is a former Yanga Head Coach were well beaten 3-0 against Mtibwa Sugar in their last match on Saturday.
Danny Usengimana who reportedly left the club since March will be the only high profile miss while all other key players will be in contention for the starting spot.