NPFL
Martin Ursule wants Katsina United to learn from Enyimba setback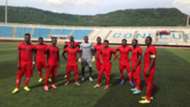 Katsina United's Martins Ursule has stressed that they can only take positive notes from their 2-0 defeat to Enyimba in a league tie on Sunday at the UJ Esuene Stadium, Calabar ahead of their upcoming matches after the Russia 2018 World Cup break.
Goals from Uche John and Joseph Osadiaye nailed the Changi Boys' coffin against the People's Elephant but Ursule affirmed that had their opponents not scored an early goal they would have found it more difficult to secure the maximum points.
He said that they were instructed to prevent Enyimba from scoring in the first half so that they could tighten up the loose ends in the second half but that the infringement in their vital area which resulted into their hosts' opening goal changed their order.
"I want to say that Enyimba were lucky to get their first goal the way they got it early in the game," Ursule told Goal.
"We had drawn up a strategy that will prevent them from scoring in the first half and tried to seal it up in the second half but their opening goal took us by surprise and we were unable to recover. We played very well and deserve to leave with at least a point but we can't change the situation again and have to think of the future matches.
"We have so many things to learn from this setback and this we have to discuss when we return back home. We gave a good account of ourselves against Enyimba and they worked very hard before they could get their goals."
Katsina United slumped to seventh from the fourth spot in the league table with 36 points from 24 games as a result of the defeat to Enyimba and they will face Go Round in Omoku next after the World Cup break next month.