MLS
Marsch on red-hot Wright-Phillips: You could argue he's the best in MLS history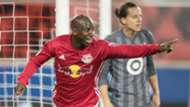 HARRISON, N.J. — Bradley Wright-Phillips has made goals look easy to come by during his time in Major League Soccer.
Respect as one of the league's premier players has been much tougher to come by.
That is how New York Red Bulls coach Jesse Marsch sees things when it comes to his star striker, who has started the 2018 season in outstanding form, continuing that red-hot form with two goals in Saturday's 3-0 romp over Minnesota United.
The brace pushed Wright-Phillips' totals to a whopping six goals and four assists in eight matches in all competitions in 2018.
Generating goals is nothing new for Wright-Phillips, but in past years his success was often credited to the other players, wihether it was Thierry Henry setting him up in his MLS Golden Boot-winning season of 2014, or Sacha Kljestan delivering the assists in 2015 and 2017.
Some wondered how Kljestan's departure might affected Wright-Phillips' productivity, but if anything the English striker has taken his game to a new level, playing the role of provider as well as finisher, leading Marsch to wonder aloud why he doesn't get more credit, whether from skeptics or referees.
"There is this perception that Brad's not one of the premier players in this league," Marsch said on Saturday. "Brad got a couple of shots in on him early in the game and I was saying to the fourth official if that's David VIlla, he gets the call. Why doesn't Bradley Wright-Phillips garner the respect of the premier players in this league? Because you could make an argument that he is the best player to ever play in this league, and the best goal-scorer to play in this league, and he should be treated as such by everyone, including referees. If we're talking about protecting the star players, and making sure that we're protecting attacking players."
The rough treatment from Minnesota United defenders on Saturday still didn't stop the 33-year-old from scoring a pair of top-shelf goals. The first saw him volley a Tim Parker header past Loons goalkeeper Matt Lampson in the first half, then he raced onto a perfect Alex Muyl through-pass before he deflty placed a right-footed shot past Lampson to put the match out of reach in the 78th minute to help the Red Bulls bounce back from last week's 1-0 loss at Real Salt Lake.
Have yourself a night, BWP! #RBNYvMIN https://t.co/4qKQFU8mUL

— Major League Soccer (@MLS) March 25, 2018
"The win today was amazing," Wright-Phillips said. "We bounced back well from (Real Salt Lake). It was what we needed, and the boys reacted well."
The Red Bulls are off to a good start to 2018, having advanced to the CONCACAF Champions League semifinals while also posting a pair of victories at home to start the MLS campaign with six points from three matches. Wright-Phillips has been the key catalyst in the team's attack, entering the season in strong form, which is a far cry from how he looked at the start of 2017, when the birth of his child caused him to miss part of preseason.
"I knew the season before I didn't come back in the best shape," Wright-Phillips said. "This season I wanted not just goals, I wanted to feel good, I wanted to play well. It kind of paid off because my offseason I worked hard and it seems like it's paying off.
"Goals aside, assists aside, I feel like I've come back sharper," Wright-Phillips said. "I feel like I can get around the pitch easier. I'm enjoying it more, the beginning of the season."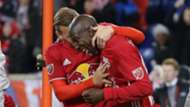 Marsch's comments about Wright-Phillips arguably being the best player, and best goal-scorer in MLS history aren't without merit. His two goals on Saturday moved him into a tie for 11th place on the all-time MLS goal-scoring list with 89, and his 0.72 goals per 90 minutes rate is higher than any player in the top 10 (Taylor Twellman's 0.60 goals per 90 minutes is the highest in the top 10).
Wright-Phillips has compiled 106 goals in all competitions for the Red Bulls. Those goals have come playing under two different coaches and playing with a variety of different players. His track record speaks for itself, so he isn't too worried about the idea that he might be underrated, or that some have given his teammates the credit for his success.
"I don't really care. I'm lucky enough to play with great players," Wright-Phillips said. "I played with (Henry), he helped me, I played with Sacha and he got a lot of assists for me. There's players around the world that get assists from number 10s or wingers."
Those skeptics who may have seen him as a product of the play of others are likely rethinking their theories as they watch him thrive in 2018. He may not have the name recognition of a Villa, or a Zlatan Ibrahimovic, but Wright-Phillips continues to produce at a rate that makes it tough to deny him his place as one of the best in MLS history.
"I've made this argument for four years with Brad, that he doesn't get the respect that he deserves," Marsch said. "But I don't think he gives a damn. He's just going to go out and do his thing and show every day what he's about.
"He's incredible. He's incredible. He should be the most underrated player in league history. That should be his moniker, because he proves every night how good he is."