Marek Hamšík
Hamsik is Slovakia's greatest ever - Sylvestr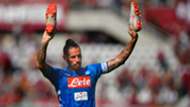 Napoli star Marek Hamsik should be regarded as Slovakia's greatest ever ahead of former Liverpool centre-back Martin Skrtel, international team-mate Jakub Sylvestr feels. 
The 31-year-old will win his 108th cap for Slovakia if he features in Saturday's Nations League encounter against Czech Republic to become his country's most-capped player, erasing previous record holder Miroslav Karhan's name from the record books.
Hamsik has not only impressed at international level throughout his career, but has also shone at club level, deplacing the legendary Diego Maradona as Napoli's all-time top goalscorer. 
Sylvestr grew up in the same city as Hamsik - Banska Bystrica - and even though they did not play together at local club Jupie Podlavice, he vividly remembers how his compatriot made a big impression at a young age already.
"I know Marek very well," the Beitar Jerusalem attacker told Goal. "We grew up in the same city and our fathers played together. We went to the same football academy in my town. I have known him since I was eight or nine years old. He was always a big talent in Slovakia.
"He was two years older, I would leave the pitch and his team would enter in a lot of games and tournaments at our club. At that time he was regarded as a huge talent already. As he got older, he continued to progress and develop. I think he has always been a big player at all his clubs and he proved that he is the best in Slovakia and one of the best in the world.
"He worked really hard, taking these small steps in his career. Then he went to bigger and bigger clubs. A lot of people in Slovakia say, 'oh he is not that good' and we don't really appreciate his success in Slovakia. Sometimes I think people are a little bit jealous.
"I can tell you that he is also one of the best players that I have ever played with. For sure, in the world too. He is good with his weaker left foot and it is basically just as good as his right foot. He is really talented and he is possibly the best in Slovakian history.
"He had been competing with Martin Skrtel for the best player in Slovakia award every season, espescially when Martin was at Liverpool. But for me, Marek is the best. Skrtel was really tough, a destroyer in defence and a great player, but for me Marek has everything. Shooting, passing, crossing and great vision. He is amazing to watch. For me, he is the top one."
Hamsik has enjoyed a fine career at Napoli, but many feel he could have represented an even bigger club. Sylvestr, however, is adamant the Serie A side are a huge team already.
"I think he at in one of the best teams in Italy, it is unfortunate that he never won Serie A," he added.
"I think it is great that he has spent 10 years there. He beat Maradona's record and he is loved in Naples. I think he could have done it somewhere else and it isn't exactly like Napoli is Livorno, their fans are incredible."