Super League
Maniam's mid-season tactical work may be affected by unavailable players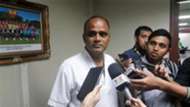 ---
BY        ZULHILMI ZAINAL       Follow on Twitter
---
Selangor boss Maniam Pachaippan is concerned that five of his men who are away on national team duty may face difficulties in catching up with the tactical work he wants to focus on in the current mid-season league break.
Just before the break began, Maniam told the press that he wants to use the time off from competitive matches to get the Red Giants familiar with new formations.
But Amri Yahyah and Khairulazhan Khalid have both been called up to the Malaysia senior national team training camp in preparation for their Asian Cup qualification group match against Lebanon next week, while Adam Nor Azlin, Kannan Kalaiselvan and Syahmi Safari will be leaving with Malaysia U22 for China on Thursday.
Now Maniam is slightly concerned that the five men will find it difficult to catch up with the tactical work their Selangor teammates will be put through.
"I want to use the time off from matches to get my players to be as familiar as possible with the 4-2-3-1 system.
"Of course there is a slight concern on the five players' ability to understand the new system, when the competition resumes after the break.
"But I think the more-experienced players such as Azhan and Amri will  have no problem understanding this system. Maybe Syahmi, Kannan and Adam need a more detailed guidance later when they return," said Maniam as quoted by the club website.
According to the former Selangor player, he hopes that the new formation may provide more edge to his side after the break, when the Super League resumes and the Malaysia Cup kicks off.
"It is important for my players to understand this new system because previously we have used the 3-4-3 system formation.
"I think with the addition of the new formation, my team will be able to prepare themselves better for the remaining Super League rounds, and the Malaysia Cup after the break," he explained.