Premier League
Mourinho expects Ibrahimovic to return in 2017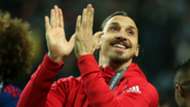 Jose Mourinho says that he thinks Zlatan Ibrahimovic will return to first-team action for Manchester United before the end of the year, though admits it's "just a feeling".
The 36-year-old bagged a fine haul of 28 goals in 46 appearances for the Red Devils last season before suffering a knee injury, with fans across the world fearing that the Swede's career might be over.
That is not to be the case, however, if everything stays on track, with Mourinho backing up former striker Andy Cole's assertion that Ibra could return before 2018.
"Zlatan is here, under our control, working as I would expect, so, so hard, but he's not back in a week or a couple of weeks," the Man Utd boss told a press conference on Friday.
"Let's let him take his time and be back in the right moment. Do I think he will be back in 2017? Yes I do, but it's just a feeling."
Ibrahimovic isn't the Portuguese boss' only injury concern, however, with Paul Pogba, Michael Carrick, Marouane Fellaini and, more recently, Marcus Rashford all having spent time on the sidelines.
Mourinho delivered some good news in confirming that Rashford is fit and ready to face Huddersfield on Saturday, but admits he does not know when his other stars will be available for selection.
"We have the same players as we had for the Benfica match," he continued.
"Everybody knows every manager wants to have all the players available it's just then a question of the way you position yourself in relation to that, the best way you think to do it.
"For some it's better to remember the team is not in its full strength, it's better to remember 'play A or B' and 'C or D is still important for the team'. The way we try to do it is always to speak about opportunities for others.
"Paul Pogba is not here, I don't know when he'll be back. When he is available. I don't know."