Thibaut Courtois
Manchester United game is a must win for inconsistent Chelsea, says Courtois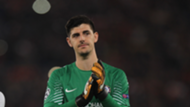 Thibaut Courtois thinks that Chelsea need to win at Stamford Bridge against Manchester United on Sunday to give them a chance of retaining their Premier League title. 
Chelsea sit in fourth place after 10 games with a nine-point gap between them and Manchester City, who sit at the top of the table. Ex-Chelsea manager Jose Mourinho is now leading Man United and his side are four points above the champions ahead of Sunday's clash in west London. 
Courtois conceded three goals as Roma comfortably beat the Blues in the Champions League on Tuesday and the Belgium international is hoping to see his side return to winning ways to stay in contention for the title. 
"If we want to remain near the top of the Premier League then it is a must win game for us," Courtois said at the Stadio Olympico. "I think City is at nine points [ahead of us], United is at four. Tottenham is just one in front but this game is a must win if you want to remain near the top and near the other teams.
"We will try to get three points and give our lives for it on Sunday.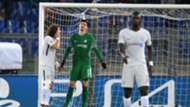 Chelsea won the title last term without having to play any European football after a rough 2015-16 campaign. Courtois was asked if the Blues were having trouble coping with the Champions League and the Premier League this season.
"I don't think so," the goalkeeper replied. "We try to do our best and we want to be in the Champions League. A few years ago, we won the league while playing in the Champions League.
"Obviously it is a change so it is harder. We are tired quicker than last year but I don't think it affects us. I think we just need to keep training well and be ready for Sunday. I think after the Palace game and I think Roma after, we showed some good character against Watford and Bournemouth.
"We could have won 4-0 vs Bournemouth so I think we will have to meet tomorrow, see the images and see what we could have done better and then give 150 per cent of ourselves on Sunday."