Premier League
Manchester United chanters must accept their Lukaku song is racist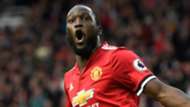 The big issue coming in the wake of the Romelu Lukaku chant controversy is not simply that some sections of the Manchester United support deemed it funny or acceptable in the first place but that they are steadfast in their refusal to countenance that it could be described as racist.
It's one thing for a fan to make a monkey chant or unleash the N-word on a black player. Those acts are very deliberately gross and very deliberately racist; words and actions precision-engineered to hurt, to demean, to "other" the victim. And in the theatre of football these acts have been all too pervasive down throughout the years.
This song about the size of a black player's penis, on the other hand, we are told is complimentary.  And this is an insidious type of racism, perpetrated by people who would never in a million years consider themselves racist.
The footage was described as "hilarious" on YouTube and all the usual banter content sites were asking permission to use it on their own Twitter feeds.
There was little or no queasiness about the song originally and it took a back page story in The Times for the problems within it to be brought into sharper focus.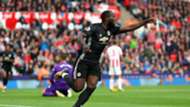 A quick scan of the Man United Songs & Chants page on Twitter reveals not only a defence of the chant but a question of why it's even considered offensive.
"How do you know any black person has an issue with it?" one post reads. "Would it be OK if it was a white player?" asks another. "A racist chant would be something aimed at a player suggesting they are inferior because of their race – this clearly isn't the case here," one more says.
A summary of the thoughts above would be that only black people are allowed to find racism offensive, that a white striker would be just as likely to have a song invented about the size of his manhood and that black people should be flattered with the assumption that they are well-endowed. And all three examples would fail any credibility test.
The culprits inside Old Trafford on Sunday when Lukaku scored his goal against Everton never thought for a second they were being racist. They were engaging in "banter" as they saw it and would never have thought that perpetuating such a stereotype could be damaging.
Some persist in their beliefs that it could never be racist and the time is right to show them why it can be. This is not time for condemnation and instead it should be used as a chance for education.
That could mean pointing them in the direction of "The Birth of a Nation", the 1915 silent film by DW Griffith which portrayed black men as dumb and sexually aggressive and worth lynching due to the threat they presented to white women.
It could mean pointing them in the direction of the literature of Dr William Lee Howard, who in 1903 wrote: "When education will reduce the large size of the Negro's penis as well as bring about the sensitiveness of the terminal fibers which exist in the Caucasian, then will it also be able to prevent the African's birthright to sexual madness and excess."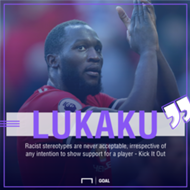 "Racist stereotypes are never acceptable, irrespective of any intention to show support for a player," the anti-racism organisation Kick It Out said in a statement. "We have contacted Manchester United regarding the issue and will be working closely with them and the Football Association to ensure that it is addressed swiftly. If we receive any reports relating to the discriminatory chant, those will be passed on to the governing body and the perpetrators can expect to face punishment."
It was a well-measured statement and not one intended to make the culprits feel ashamed or defensive. This world is quick to condemn. It's not easy to find forgiveness or understanding. Those who find themselves outside the boundaries of acceptable opinion and language are often shunned, excommunicated.
By reacting with such a tone Kick It Out ensures that judgement in this case is reserved and an opportunity for progress arises. Let's all use the Lukaku chant as an opportunity to learn.