Premier League
'Man Utd will be top at end of November' - Fixture list favours Mourinho's men, says Moyes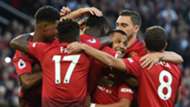 Manchester United can take charge of the Premier League title race by making the most of a favourable fixture list, says David Moyes.
The Red Devils got their 2018-19 campaign off to a winning start on Friday when seeing off Leicester City 2-1 at Old Trafford.
Jose Mourinho's men are now up and running, with Paul Pogba and Luke Shaw getting the goals to offer early positivity on the back of a testing summer on and off the field.
Former United boss Moyes feels that success could be the first of many, with the likes of Brighton, Watford, Burnley, Wolves and West Ham set to be faced before heading to Stamford Bridge on October 20.
He told BBC Radio 5 Live: "I agree to the point that it doesn't matter who you're playing in the Premier League, they're tough.
"But if you look at the games that Manchester United play in the first nine or 10 games, you're not playing a City, an Arsenal, a Chelsea in that period. 
"I wonder if Jose's words the other day, 'Let's wait until the end of November', I would be very surprised if United weren't top of the league come the end of November. 
"I think that the fixtures that have come out for them and the way it's worked, I think will give them every opportunity to be there."
United are set to welcome Tottenham to Old Trafford on August 27, in what will be their first big test.
Topping the table at the end of November could also prove tricky as they are set to take on Everton a week after their trip to Chelsea and arch-rivals Manchester City at the Etihad Stadium on November 11.