Manchester United
Man Utd midfielder Fellaini refusing to rule out CSL transfer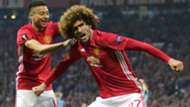 Marouane Fellaini is not contemplating leaving Manchester United any time soon, but has kept the door open to the Chinese Super League.
The Belgium international was among those to be linked with a lucrative move to Asia during the winter transfer window.
He was, however, to see a 12-month contract extension triggered by United after becoming a key figure in Jose Mourinho's plans.
Ronaldo expected to win CL goals race
Fellaini is delighted to be staying on at Old Trafford, but admits a switch to the CSL may appeal at some stage.
Asked by VTM News whether he could see himself following in the footsteps of countryman Alex Witsel, the 29-year-old midfielder said: "In China? Why not?
"I'm now Manchester United player, but I do not rule out such a transfer in the future."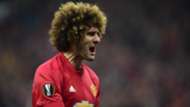 Fellaini initially struggled to make an impact at United after following David Moyes from Everton in a £27.5 million transfer in the summer of 2013.
His versatility has, however, made him a useful asset to Mourinho and his 47 appearances in the 2016-17 campaign include outings in Community Shield, EFL Cup and Europa League successes.
Neville: Carrick Utd's Player of the Year
Quizzed on why he has thrived under his Portuguese coach, Fellaini added: "He knows how to use me.
"At the start of the season, I played as a No 6, then as a No 8 and then a No 10. I play wherever he needs me.
"He knows my qualities and knows how to use me. If he plays me, I will play there and give my best."