Manchester United
Man Utd goalkeeper De Gea offers advice to Benfica counterpart Svilar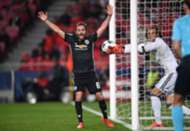 Manchester United goalkeeper David De Gea has offered some words of advice for his opposite number Mile Svilar ahead of the Red Devils' Champions League tie with Benfica on Tuesday.
De Gea 3/4 to keep out Benfica
The Belgian shot-stopper made history against United in the previous meeting between the two sides, becoming the youngest goalkeeper in the competition's history at just 18 years, one month and 22 days. 
Svilar's Champions League debut was ultimately one to forget, however, after carrying a Marcus Rashford cross into his own net as United picked up a narrow 1-0 victory to keep them top of Group A.
The Benfica teenager was comforted by his United counterpart and his team-mates immediately after the final whistle, and De Gea has again offered Svilar words of encouragement ahead of the return meeting at Old Trafford on Tuesday.
"Yes, I did have sympathy for him," De Gea told the official Manchester United website. "But then that's the life of a goalkeeper for you.
"It can be tough especially when you are so young and make a big mistake – but in the end you just have to live with it and learn from the errors that you make. He's just a young lad and he's only just starting out his career and I'm sure he'll be fine.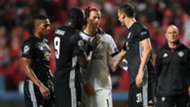 "The main thing is, if you do make a mistake, you should try to quickly forget about it and just keep going. At the end of the day when you are so young you get used to any mistakes you make and you just have to cope with them.
"You have to work very hard and enjoy what you do."
United manager Jose Mourinho has also made a point of praising the 18-year-old, saying: "He is very good. In the next match after us, he kept a clean sheet and the same again at the weekend. He has a good personality and is a good goalkeeper."
Benfica take on United at Old Trafford on Tuesday October 31 with a kick off time of 19:45 GMT.