Super League
Man of the Match: Guerra key to unlocking resolute Perak defence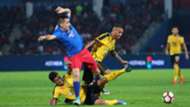 Johor Darul Ta'zim (JDT) had to dig deep after they were given a run for their money in the latest Super League clash played at Tan Sri Hj Hassan Yunos Stadium on Wednesday. Perak came with a game plan and it almost worked had it not been for the intervention of one Gabriel Guerra.
Perak knew that can't fight fire with fire and adopted the right strategy of making sure that they stayed defensively compact, and this made it difficult for JDT to breach their defence. A moment of creative genius had to come from somewhere and it did, through Guerra.
For much of the match, Guerra was the star of the home team. Creating problem for Perak with his runs from wide and constant movement, Guerra's presence caused Perak to lose Nasir Basharuddin's contribution in attack as he kept tracking back to support Amirul Azhan to counter the threat of Guerra.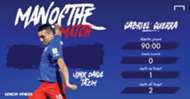 The Argentine managed to get himself into a good position in the first half but his header was just too straight at Hafizul Hakim, in Perak's goal. Unperturbed, Guerra continued to be a thorn when he created a couple of chances from his crosses on the right hand channel but poor finishing continued to let JDT down.
The moment came in the second half when Guerra picked up the ball on the left and cut in-field. He saw the movement of Cabrera and Guerra threaded the perfect through pass for his team mate. The move eventually lead to JDT's second goal which also turned out to be the winning goal.
One more league match for the Argentine and his team mates to go through and if they retain their winning momentum, the Super League title will be returning to Johor once again this season. On current form, no one would bet against them doing just that.