Mamelodi Sundowns
Mamelodi Sundowns press charges against Orlando Pirates following Loftus Versfeld Stadium scuffles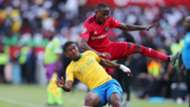 Mamelodi Sundowns have confirmed that they have pressed charges against fellow Premier Soccer League (PSL) giants Orlando Pirates.
This is after the off-field scuffles that broke out ahead of the PSL match between the two Gauteng giants at the Loftus Versfeld Stadium in Tshwane last weekend.
A Sundowns fan then invaded the pitch and he attacked Pirates assistant coach Rulani Mokwena during the massive encounter. 
"A police case has been opened against Pirates at the Sunnyside police station [in Pretoria] for damage to property and one for assault on a security officer," Sundowns' acting general manager Yogesh Singh told City Press.
Singh also revealed that the Tshwane giants have written to the PSL to register a complaint indicating that they were bullied by the Buccaneers, who were the visitors.
The club official then accused the match commissioner Mark Lindon of "allowing Pirates to have their own way in our stadium. Pirates broke the emergency gate and forced their bus into a space where they were not allowed to park."
"Second, they used another dressing room other than the one we had allocated them, which the match commissioner had already inspected and approved. We don't do this when we go to Orlando Stadium [Pirates home ground]," he continued.
"We sent the letter to the PSL before we even saw the match commissioner's report. Sundowns won't be bullied by any team in the league – we won't stand for that," he added. 
Singh, who has served as Sundowns' commercial and legal manager, stated that he was not pleased with Lindon's match report.
"Not everything was noted but I'll respond to his report on Monday [tomorrow]," he stressed.
Meanwhile, Pirates' administrative manager Floyd Mbele insisted that they were not aware that Sundowns had laid charges against them when speaking to the publication.
"The league will summon us if we have a case to answer. Certainly we are not aware that there is action that has been taken [but] we've got our own record of what transpired [last Saturday]," he said.
The PSL media manager Lux September indicated that the would only be guided by the match report.
However, he added that the PSL's prosecutor Nande Becker, could summon the offenders for breaking the law.